I spent 10 days exploring Tunisia, North Africa's hidden gem, and I'm thrilled to share my ultimate guide showcasing my top 5 must-see attractions in the country.
We often hear about Morocco, Egypt, and Algeria as travel destinations in the media. Yet, Tunisia is one of the most visited countries in Africa. It's not often recognized as a tourist hot spot. My fiance and I discovered Tunisia only after watching a travel review by vlogger, Haley Dasovic.
We decided to make Tunisia our next travel destination after learning about its beautiful landscape, the likelihood of encountering few crowds at popular attractions, and how cheap it is to visit.
My 5 must-see attractions in Tunisia guide will take you on a journey from the coast to the Sahara for a robust travel adventure through this country's unique culture, history, and landscape.
5 Must-See Attractions In Tunisia: Your Ultimate Guide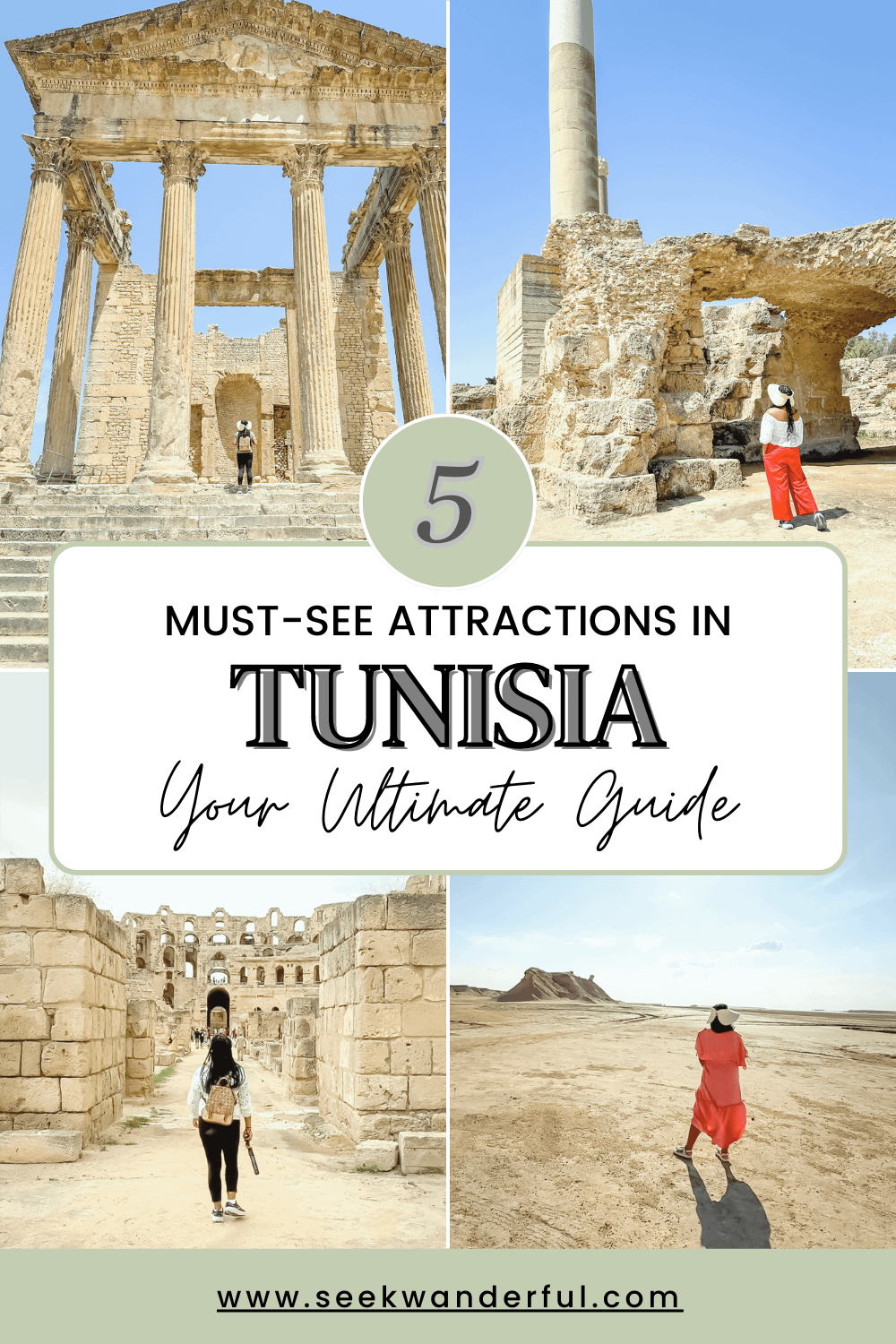 Public transportation is available to reach most attractions on this list. For this post, I won't be delving into public transport details because we rented a car and didn't utilize public transport at all during our visit.
We also canceled our stay at Djerba Island due to a recent attack prior to our trip.
Medina of Tunis
Wandering the Medina of Tunis is a fantastic way to experience the city like a local. It's a bustling labyrinth of winding, narrow passageways filled with hundreds of souks selling tapestries, clothing, jewelry, perfumes, gold, and more, amidst numerous cafes and eateries. The Medina of Tunis is also home to over 700 monuments, including palaces, mosques, mausoleums, and fountains.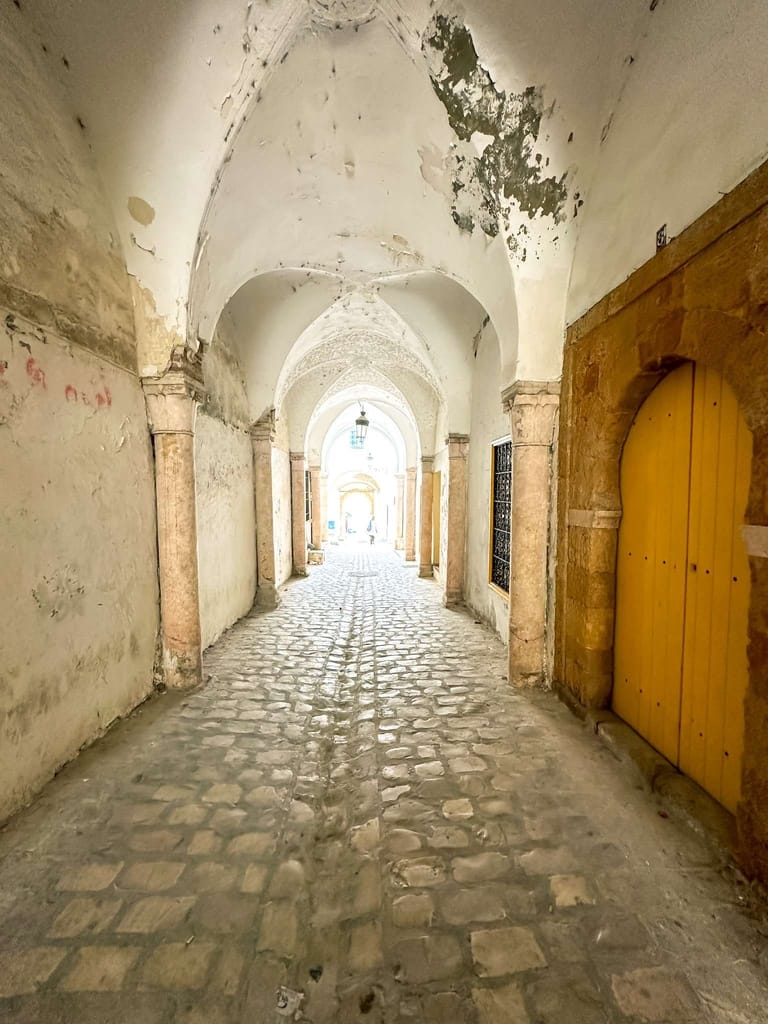 As I walked along the winding streets, the beautifully designed Moroccan-inspired doors immediately captured my attention. I learned from a local guide that different door knockers are meant for different people (men, women, or children) to use. The sound of the knocker signals who is at the door. Doors decorated with the Hand of Fatima design are meant to bring good fortune.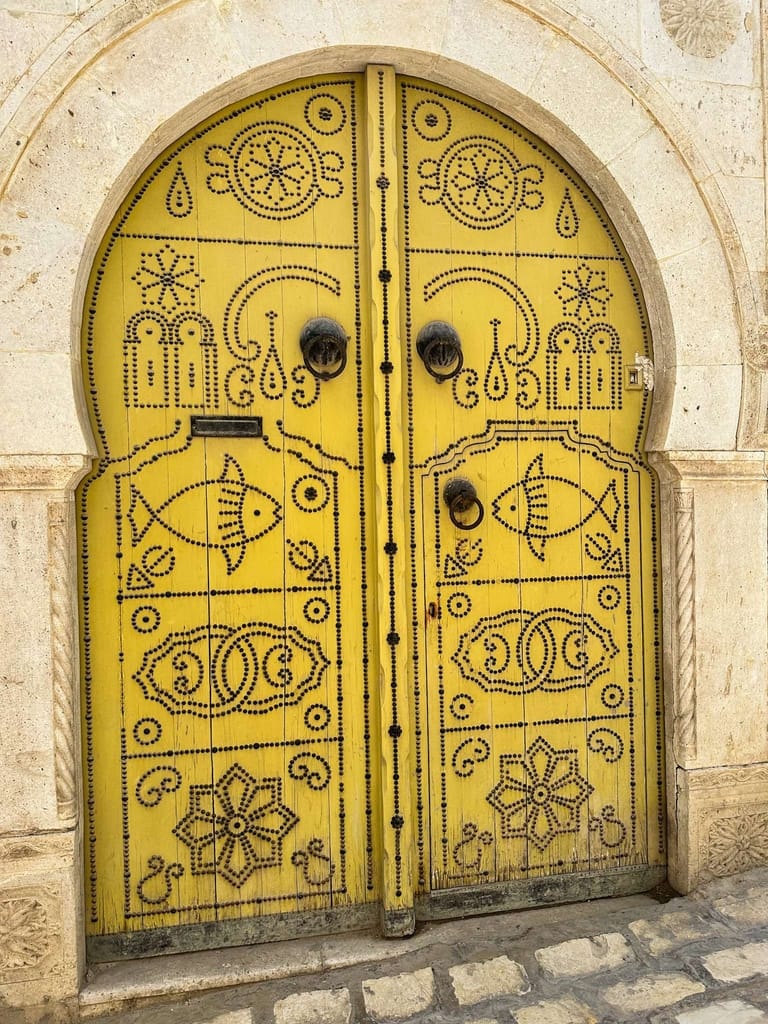 We spent two hours walking through the medina, exploring several passageways.
Haggling is expected when shopping in Tunisia. My fiance and I tried it out and successfully haggled down the price for a small rug. We also purchased other souvenirs including ceramics and scarves.
For the majority of my visit, I kept my phone out of sight. The medina can get pretty crowded in some areas and can be prone to pick-pocketers. It was pretty obvious we weren't locals and because of that, merchants often tried to capture our attention to visit their shops.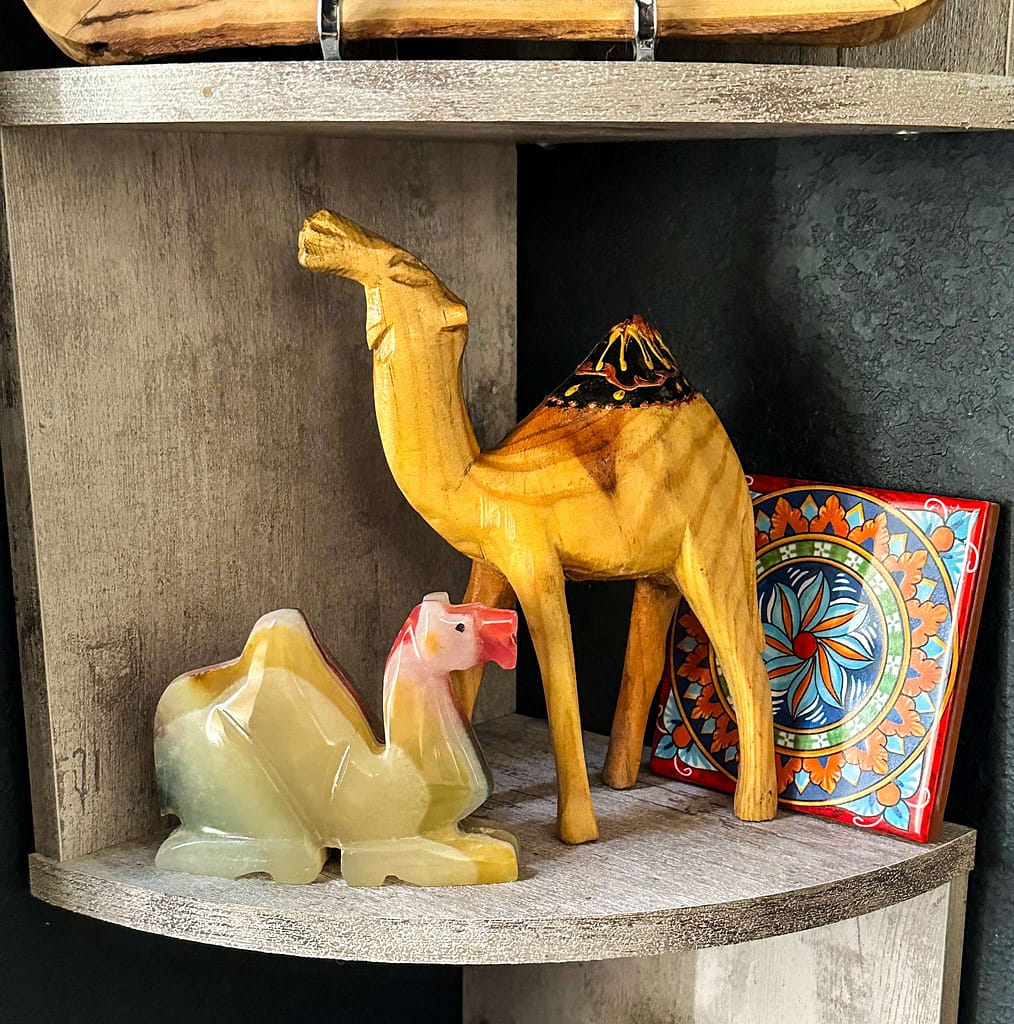 We wrapped up our wandering with a rooftop lunch at Dar El Jed, a highly-rated and recommended hotel and restaurant, where we indulged in traditional Tunisian cuisine and French-inspired dishes.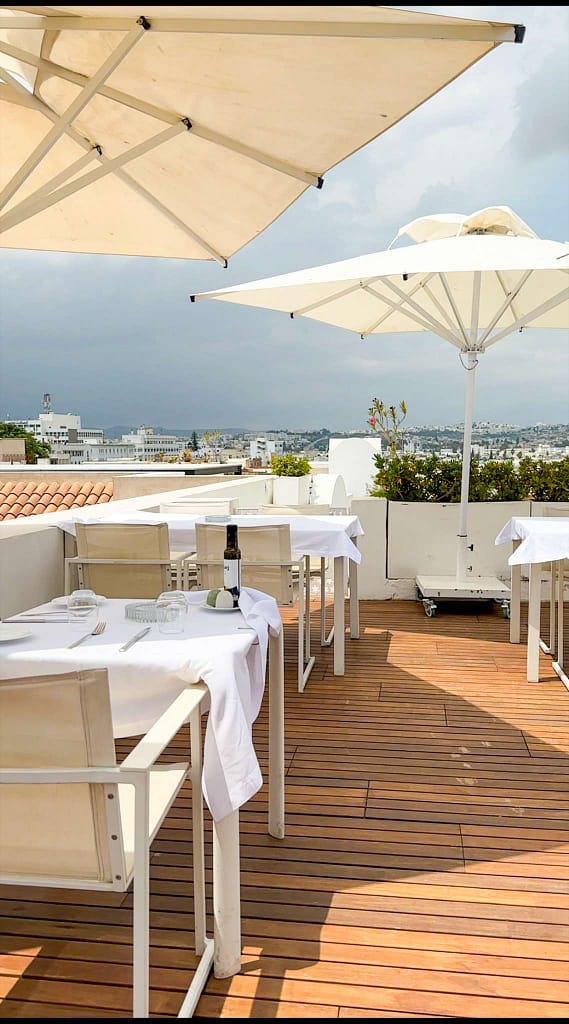 Brief History and Facts
The Medina of Tunis was founded in 698 A.D. and flourished in the Middle Ages. It was considered one of the greatest and wealthiest cities in the Islamic world. It became a UNESCO World Heritage site in 1979.
How To Get There
You can take a taxi or take the local metro to get to the medina.
We rented a car to explore all of Tunisia but trying to navigate through the medina and to find parking was an absolute nightmare.
In general, driving in Tunisia is not for the faint of heart as road rules are often understood as suggestions. It's even more anxiety-inducing in a crowded marketplace where the streets are tiny and overflowing with people and souk stalls. I highly recommend hiring a private driver to drop you off and wait. Our hotel concierge helped arranged a private driver for us after our failed attempt to drive to the medina on our own.
Highlights
Since the Medina of Tunis is massive (remember over 700 monuments), the main attraction I recommend visiting is the core shopping district and Ez-Zitouna Mosque,
Set "Dar El Jeld" as your destination in Google Maps. Once you arrive, proceed to walk along Rue Dar El Jed and Rue Sidi Ben Arous, to explore the most scenic shopping areas of the Medina. Food, souvenirs, and cafes are plenty.
As you walk along Rue Dar El Jed, you will ultimately come across Ez-Zitouna Mosque, Tunis's oldest Mosque. Only Muslims are allowed in the prayer room. Non-Muslims can enter the courtyard and take a look inside.
Shopping Tips
Haggling is part of the Tunisian culture and is encouraged. However, it that can feel strange and intimidating especially if that isn't a custom you're used to.
If you're in a touristy area, assume that the price you are being quoted is inflated. If you prefer not to haggle, look for souvenir shops that have their price tags easily visible on their products.
El Jem Amphitheatre
The El Jem Amphitheatre is a must-see attraction in Tunisia because of how well-conserved it is. The patron seating, the wall of the podium, the arena, and the underground passages are mostly intact. Additionally, its architectural resemblance to the Coliseum of Rome speaks volumes about Rome's influence. When it comes to size, El Jem is the largest coliseum in North Africa and one of the largest in the world, designed to seat a whopping 35,000 patrons.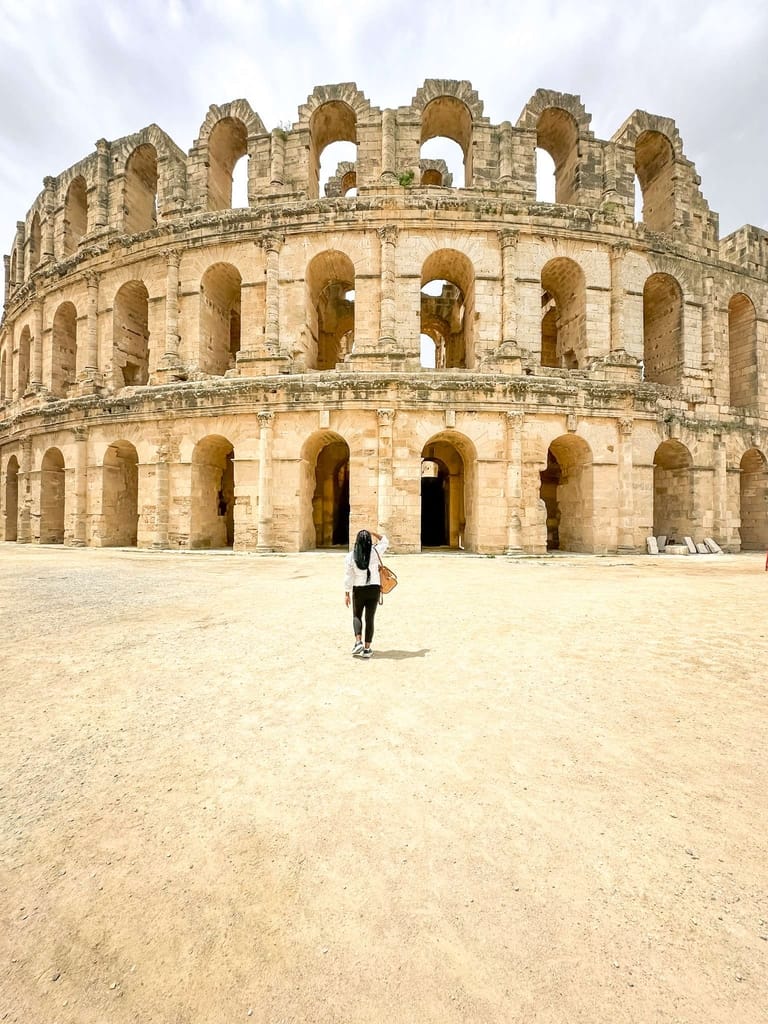 What impressed me more than its size was the level of unrestricted access we had to wander about the site. We walked to the top of the Coliseum, peeked over various arches, and ventured into the underground passages known for holding wild animals for gladiator spectacles. There were even sections underground that had steps leading up to dark open areas that we didn't dare explore.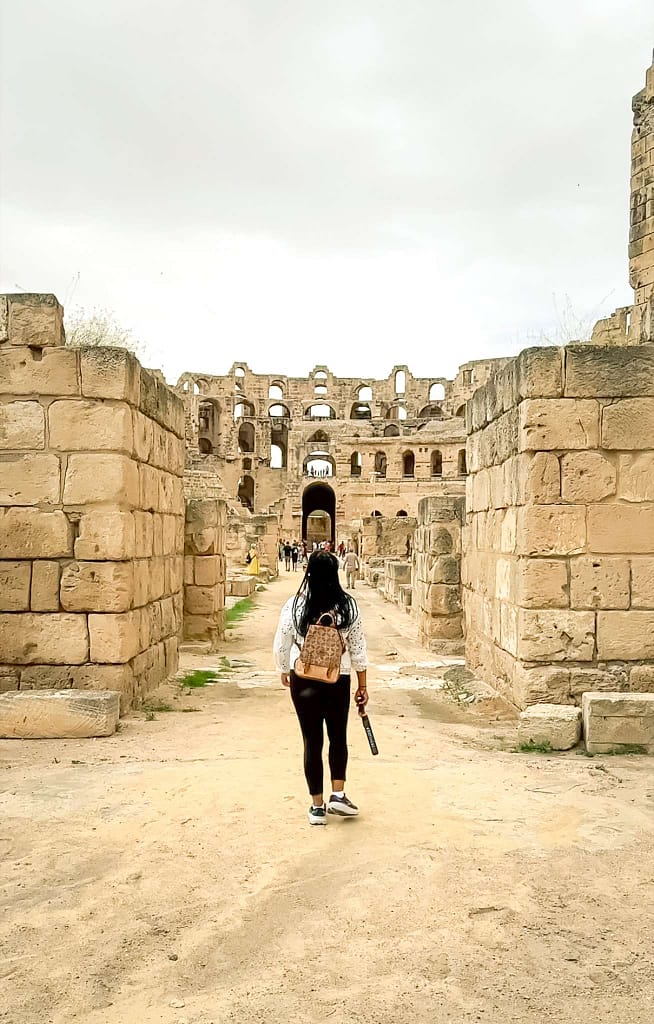 We spent about an hour and a half at El Jem, where we took our time exploring all the nooks and crannies. Then we wrapped up our visit by purchasing souvenirs at the on-site gift shop closest to the entrance. (Prices were set and not inflated which was a nice surprise for a tourist location).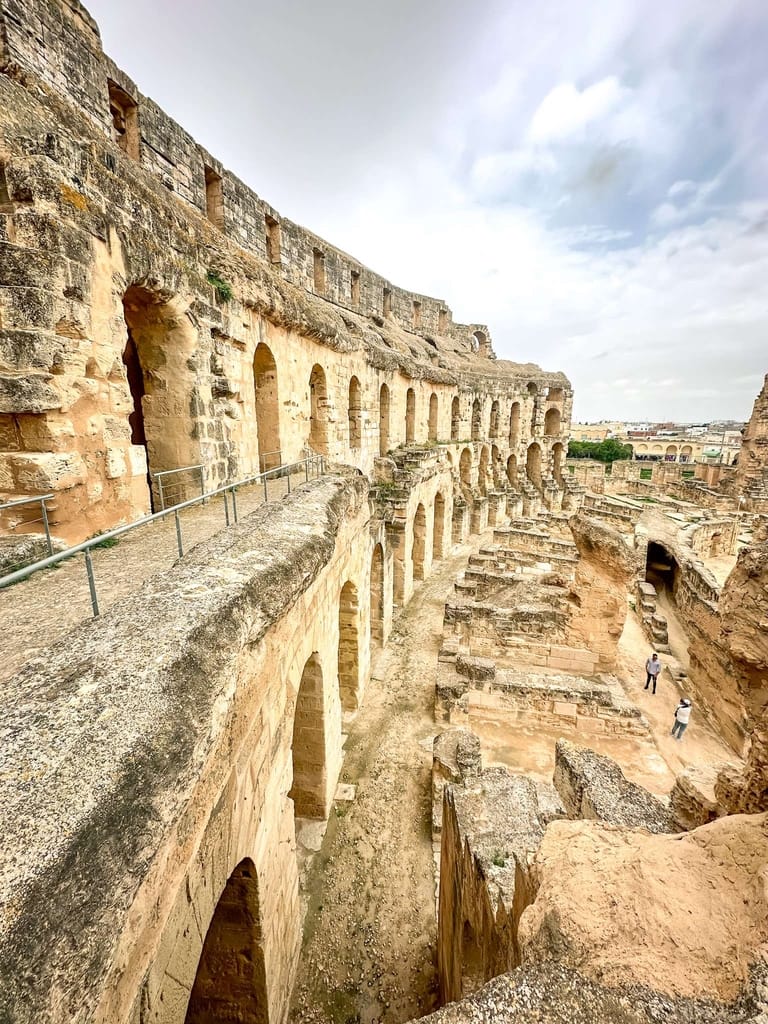 Brief History and Facts
El Jem Amphitheater was built around 238 AD and bears witness to the formerly known city of Thysdrus at the time of the Roman Empire. Monty Python's film, 'Life of Brian' was also shot at this location.
How To Get There
It's an easy straight-shot 2-hour drive from Tunis. We parked in a gravel lot behind the amphitheater and were charged 5 Dinars ($1 USD). Travel sites like GetYourGuide also offer tours to the site. You can also take a louage or train.
Highlights
There is also the El Jem Archeological Museum down the street you can also visit. It's about a 15-minute walk from the amphitheater. (We chose to skip the museum because it began to rain once we finished our tour).
There are plenty of restaurants and cafes surrounding the front perimeter of the amphitheater. Cafe Jledou stood out with many folks sitting outside and rows of international flags waving under a canopy of trees.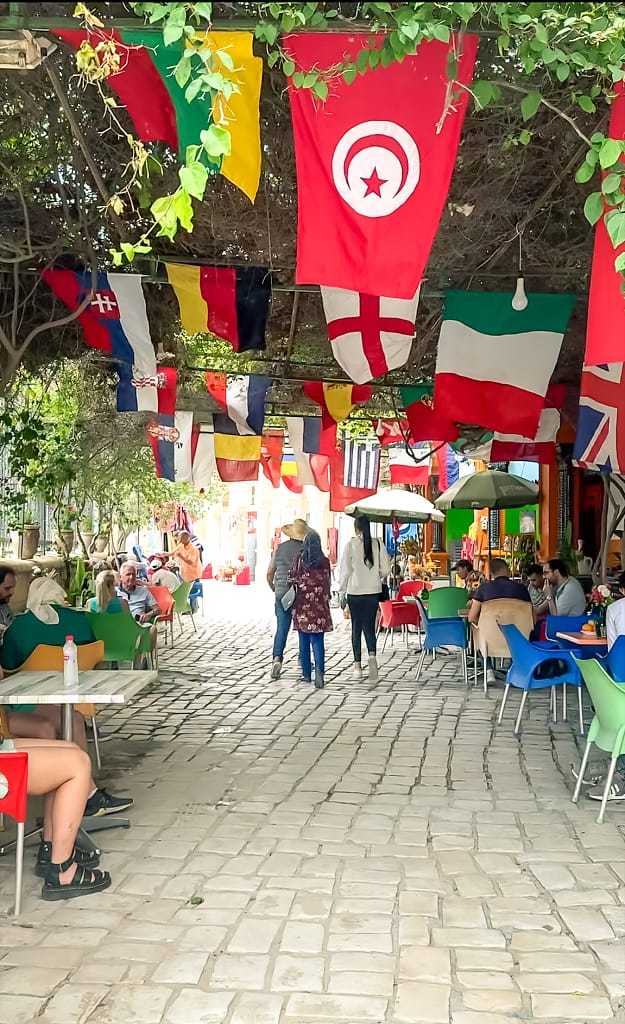 Carthage
Carthage is an expansive seaside archaeological site with many ruins and attractions scattered throughout the city. Below I highlight the ones I consider are the most impressive and are in close proximity to each other.
Brief History & Facts
Carthage was founded by the Phoenicians in 814 BCE. It grew to be the most powerful city in the Medetterian before the rise of Rome. Carthage fell to Rome during the Third Punic War and was re-established as a Roman Colony by Julius Caesar.
Carthage Tips
At all of the Carthage sites I list below, they sell a 12 Dinar admission ticket, which grants you access to 12 other Carthage sites.
Main Highlights
Villas Romaines
The Villas Romaines (Roman Villas) is located at the end of a residential street, tucked behind a row of beautiful houses. It's home to the largest number of luxury Roman residence ruins. The main conserved villa at this site is the "House of the Aviary" which includes intricate bird mosaics and a courtyard overlooking the city and ocean. Leading up to the "House of the Aviary" is a very defined cobblestone path. As I walked the path, I found myself wondering about the people who walked this very same path all those years ago.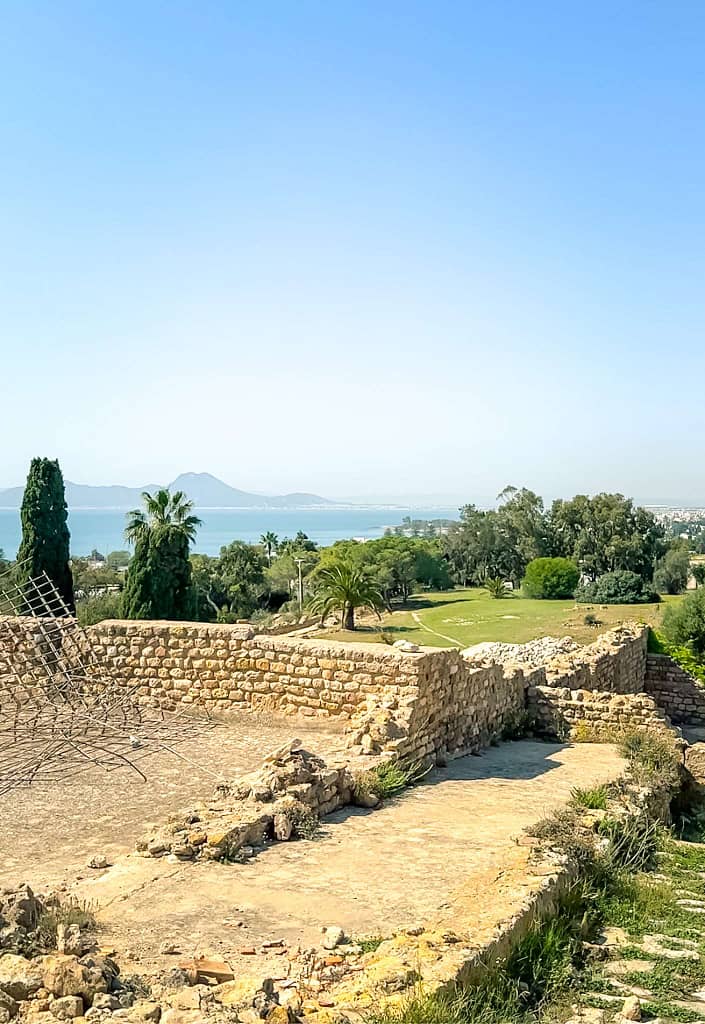 Antonine Baths
A 5-minute drive down the road from the Village Romaines brought us to the Antonin Baths, one of the largest bath complexes ever constructed. This attraction overlooks the sea which only amplifies its beauty and grandeur. While there are only four foundations still standing, their massive size indicates how impressive the baths must have been during their prime days.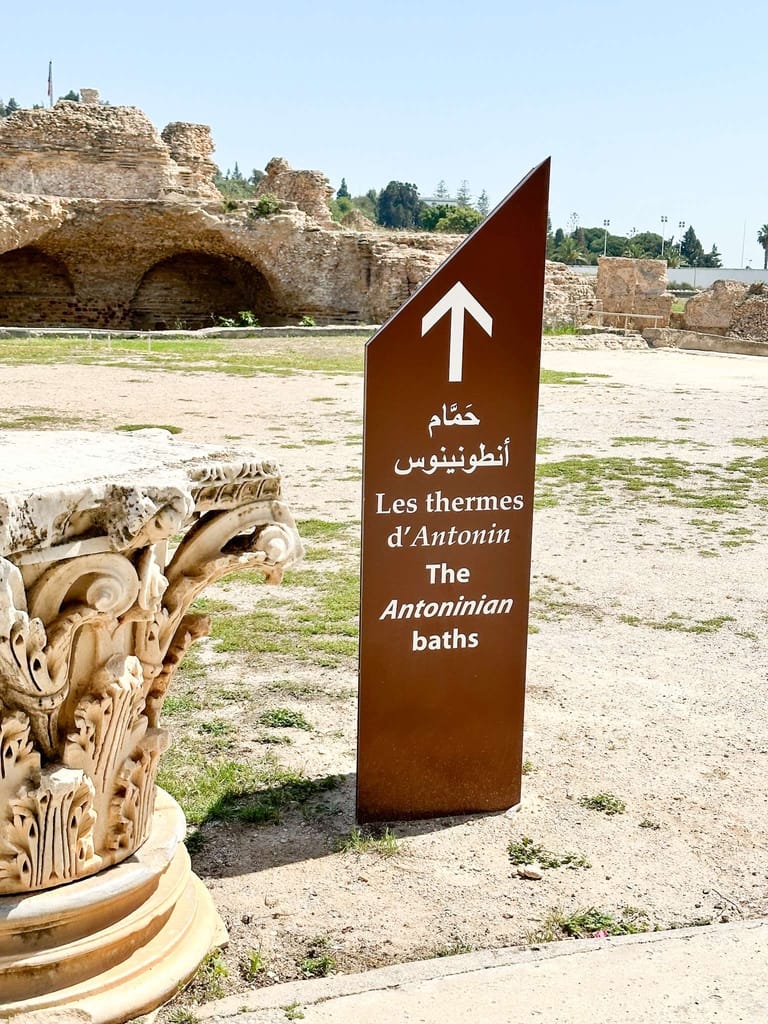 I felt as if I was in a stadium walking around the Antonin Baths because of how high the columns and walls were. I learned afterward that the height of the baths was because it once covered multiple floors; what we were walking on was the ground floor.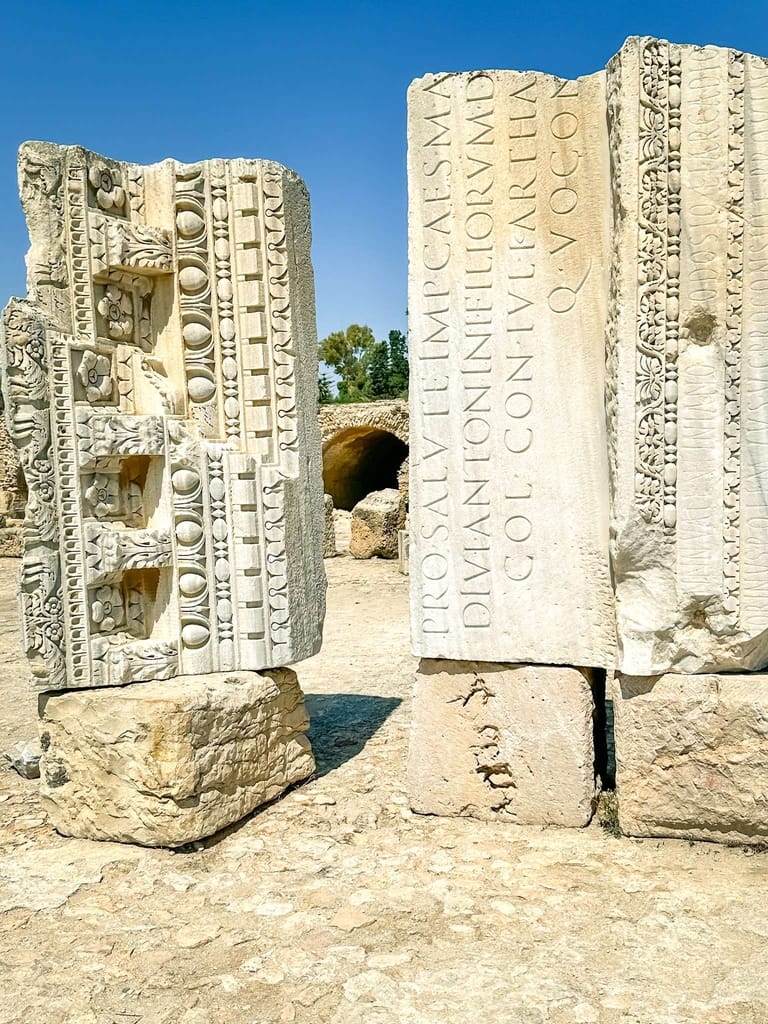 Right behind the Antonin Baths is a park with more ruins. When you go through the main entrance to the Antonine Baths, make a left to check out the park before circling back towards the water where the Baths are located.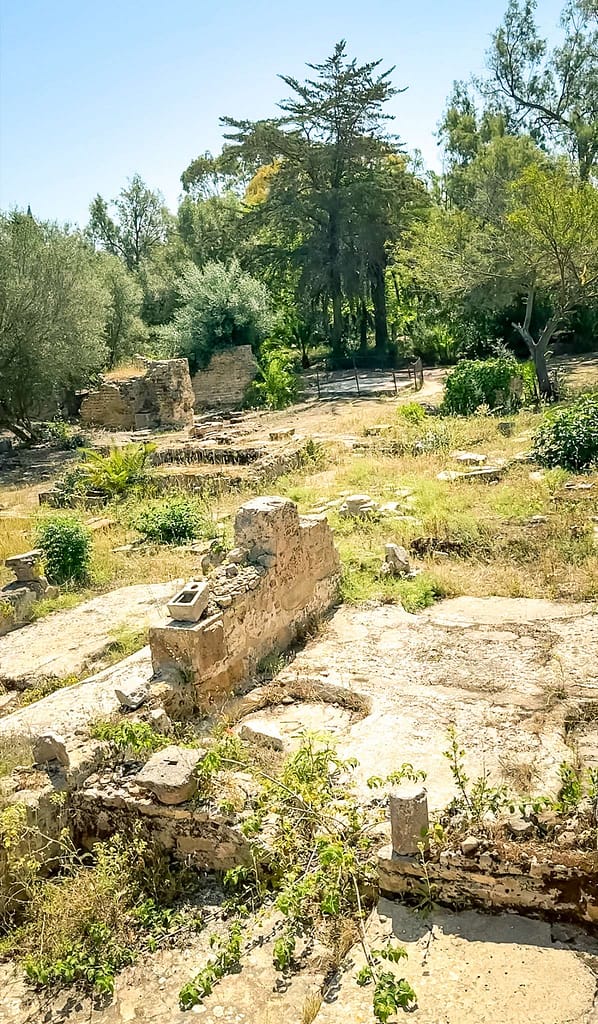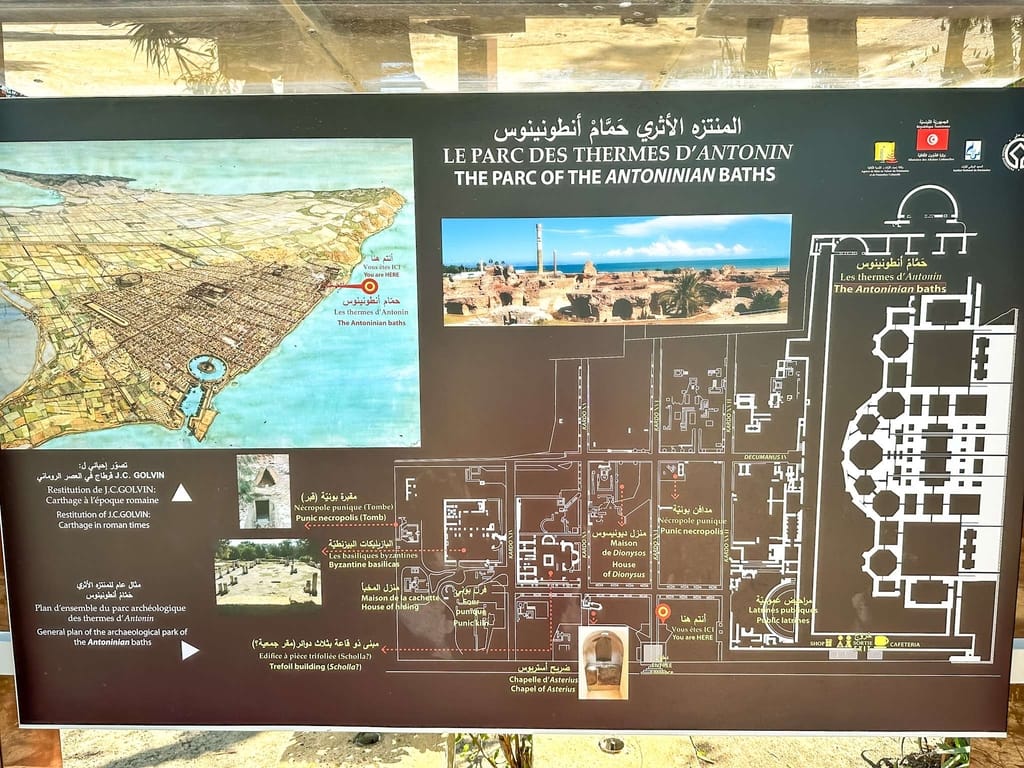 Byrsa Hill
Drive another five minutes away and you'll end up at Byrsa Hill. It was the site of the walled Citadel that overlooked the harbor in Ancient Carthage. The view from the hill is breathtaking!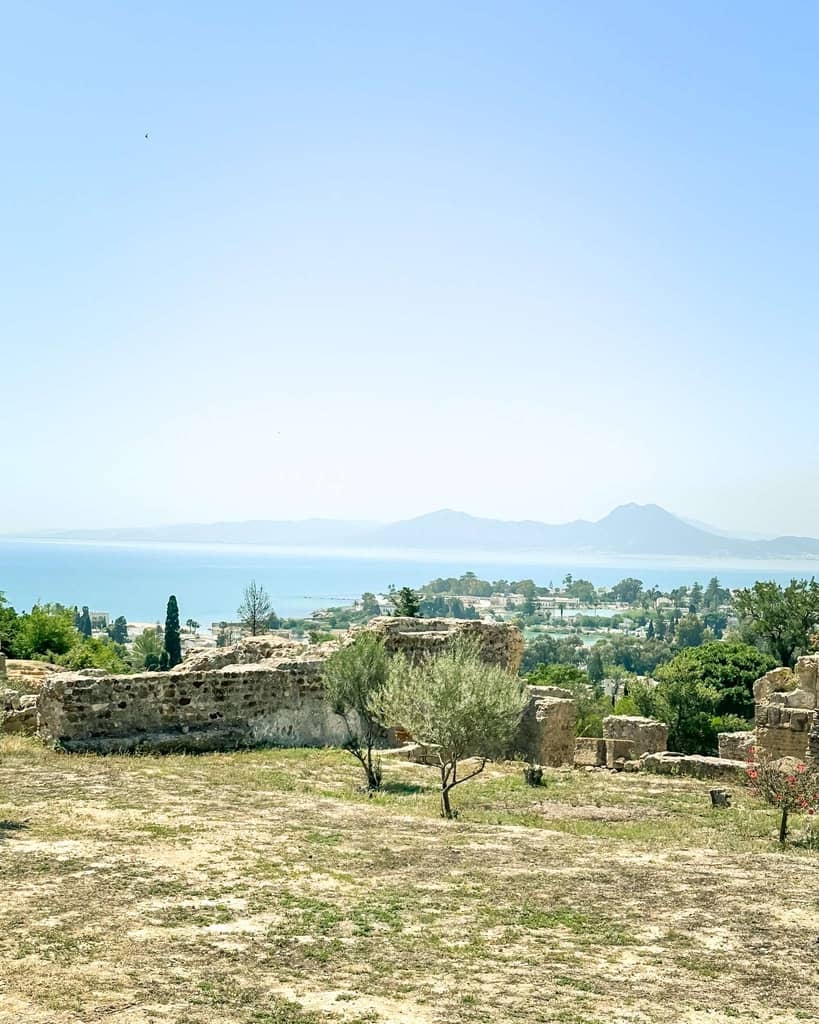 What's interesting about this site is you can see the ruins of different civilizations. The most notable ruins are that of the ancient Punic city known as the Punic Quater or "Hannibal's Quarter." (Hannibal was a Carthaginian general and one of the most legendary enemies against the Romans).
The Carthage National Museum is also located at Byrsa Hill, (which was closed when we visited).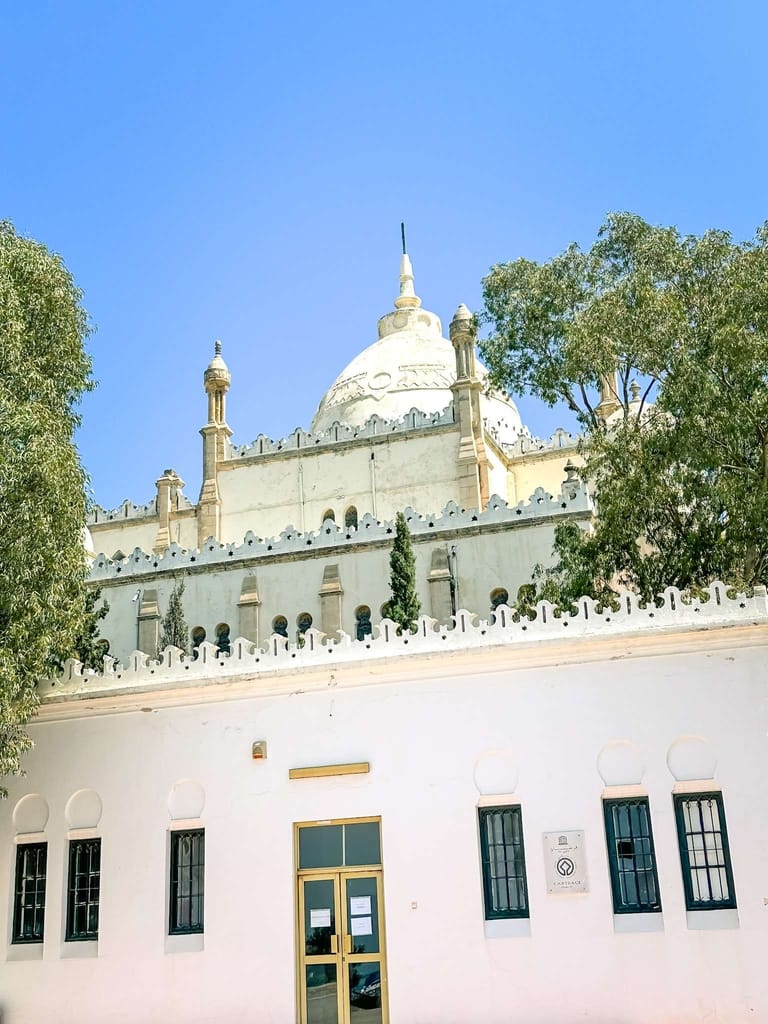 Byrsa Brief History & Facts
Byrsa Hill was founded by the Tyrian princess Elissa, better known as Dido. The story is that her brother exiled her from their homeland. When she arrived at Brya Hill, a local Berber chieftain said she could have as much land as a single oxhide could cover. The clever Princess cut up the oxhide in tiny pieces, laying them end-to-end, which encircled the entire hill. Thus, the chieftain had no choice but to give her the land.
Dougga
Dougga/Thugga is two hours inland from Tunis and my favorite attraction on this list. Strategically built on a hill (a very big hill) overlooking the valley below, Dougga is incredibly well preserved. Covering 70 hectares, the archaeological site is huge and you can see many monuments still standing.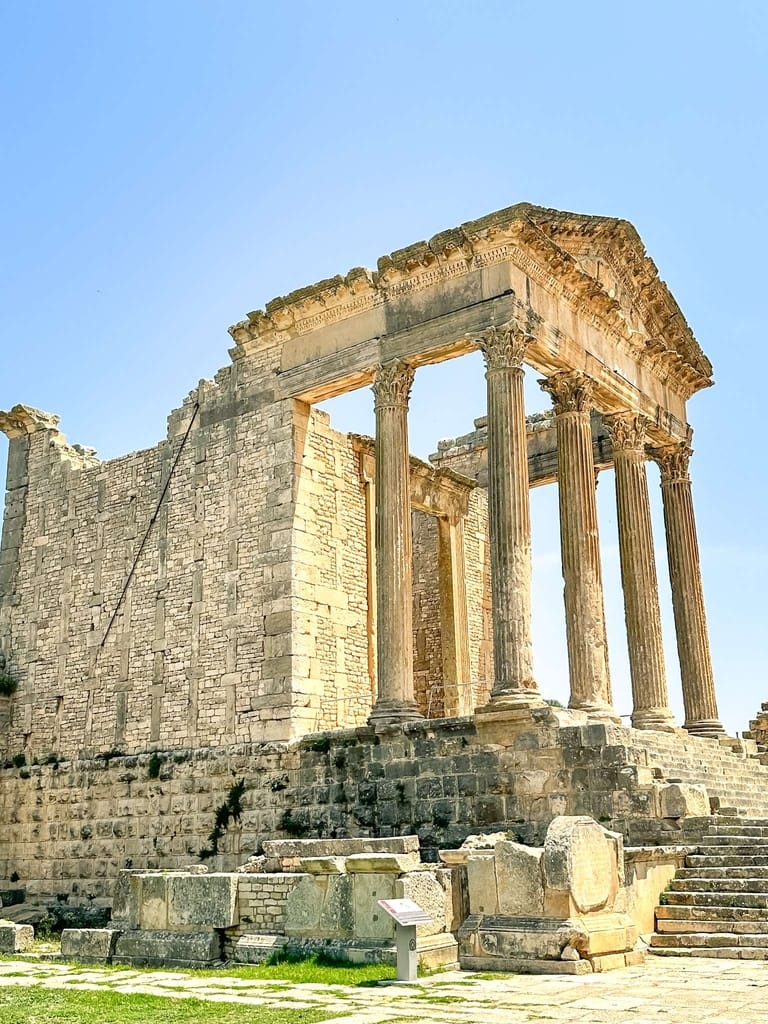 Dougga has over 12 structures and highlights that are well preserved, giving you a pretty good idea of what exactly the city looked like thousands of years ago.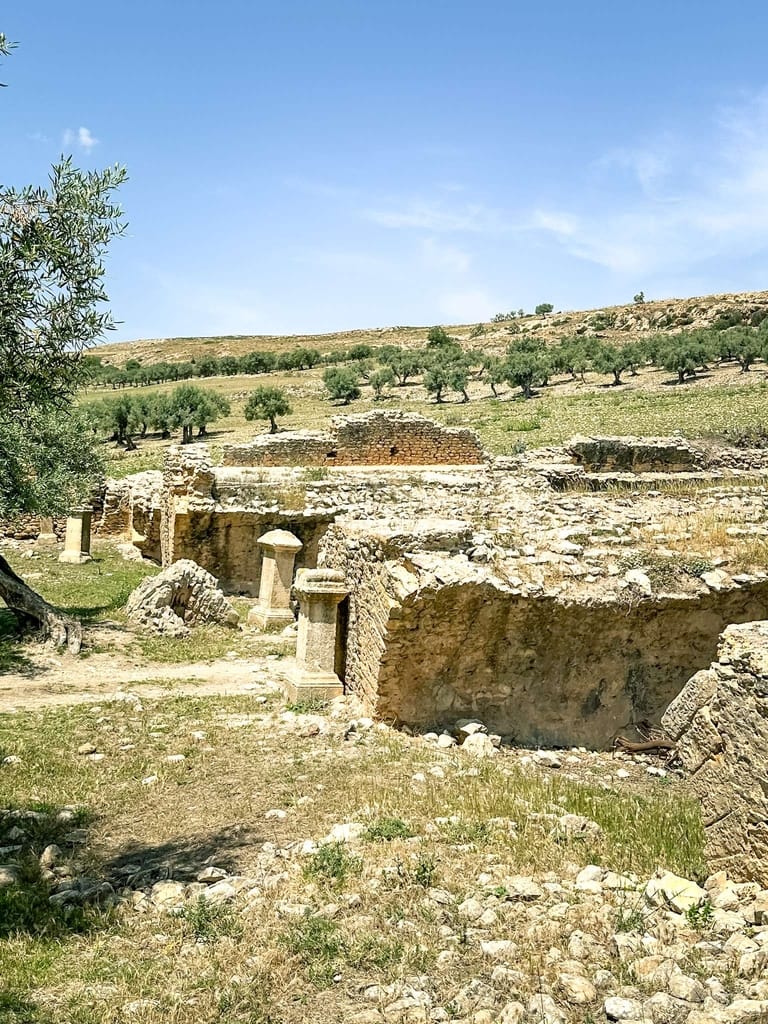 We spent about two and a half hours wandering around the site. We started by walking up the stairs of the amphitheater and along a pebbled path to the top of the hill overlooking the valley. We double-backed and admired the Temple of Mercy. We then proceed through the Alexander Septimius arch, which led to the aqueducts and more temples hidden amongst the olive groves.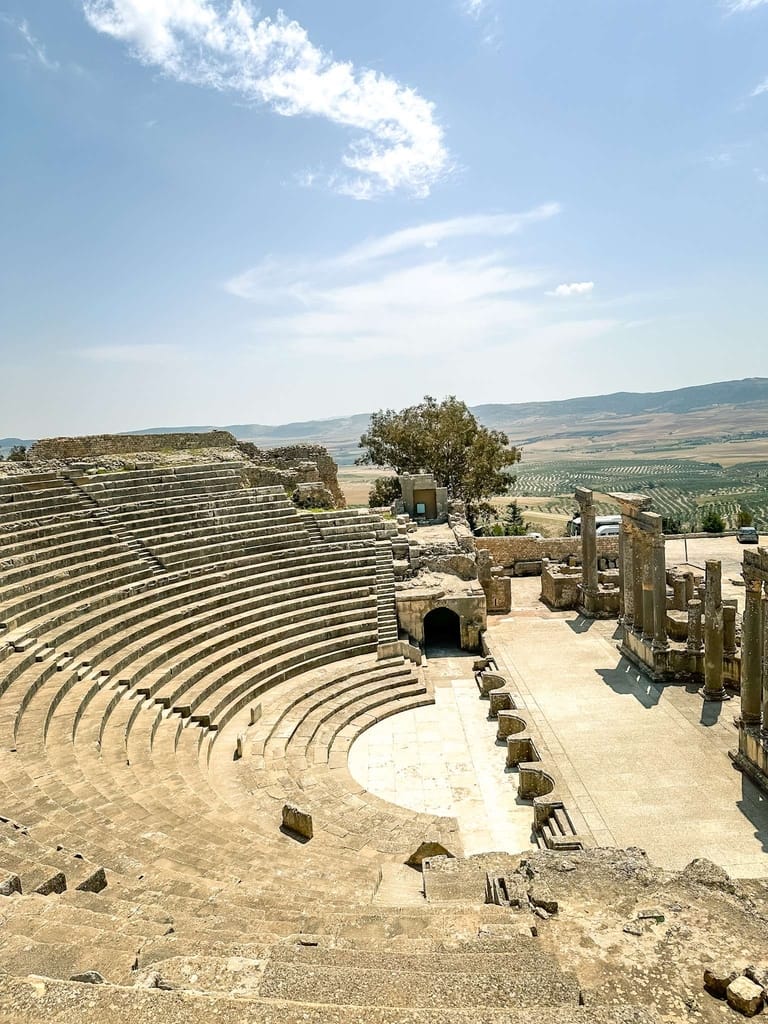 Brief History & Facts
Dougga's current name comes from the Latin name Thugga, derived from the Numidian (Berber) name Tukka (or "steep rock"). It's also North Africa's best-preserved Roman small town.
How To Get There
Tour bus, louage to taxi, or car. You'll drive through rural countryside and snake your way up a very windy two-lane road to reach this location perched on top of a hill.
Highlights
After exploring, we walked 5 minutes down a paved path straight from the site directly to the restaurant, Dar jdoud dougga. They serve traditional Tunisian cuisine with huge portions at affordable prices.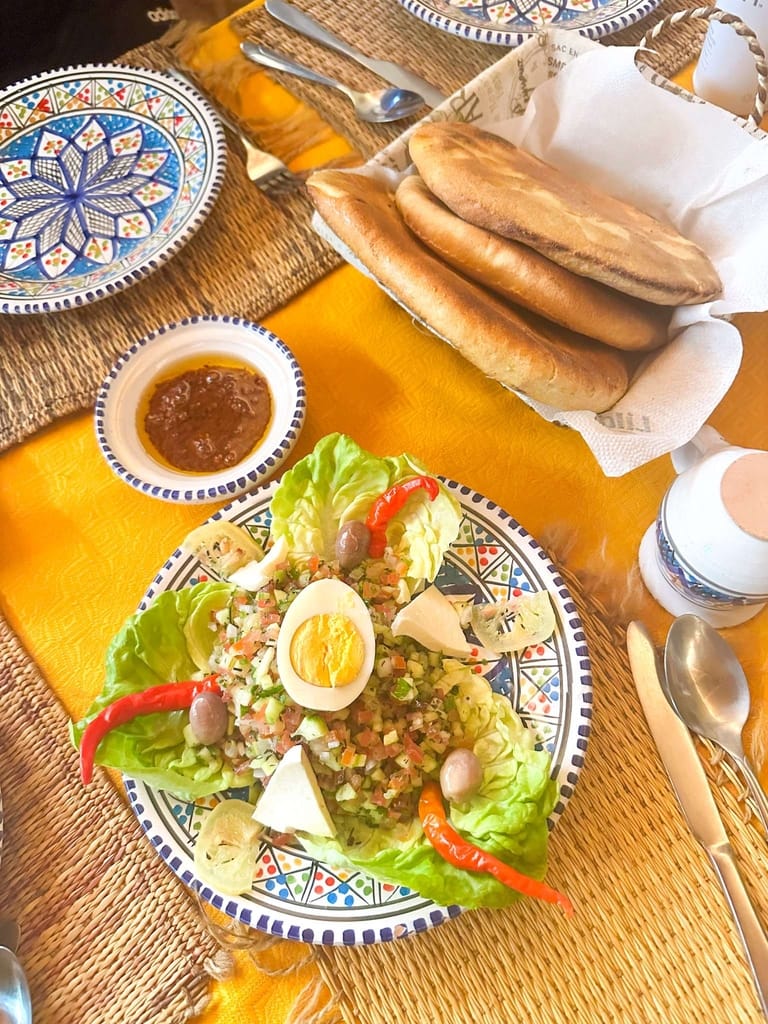 It's located at the front of the "other entrance" to the Dougga site. (I assume this entrance might be for workers and conservationists instead of tourists because we didn't see any tour buses or cars parked there).
Mos Espa
If you're a Star Wars fan (my fiance is), Mos Espa can't be missed! There are several Star Wars shooting locations all over Tunisia. Since we spent three days in Touzeur at the Anantara Resort, the resort offered a tour we couldn't resist.
This site is located in a remote area of the Sahara Desert. We were driven in a 4×4 vehicle over sand dunes to reach the abandoned Star Wars set. While it faces deterioration from sand storms, Mos Espa is being maintained by the Tunisian government to attract more tourists.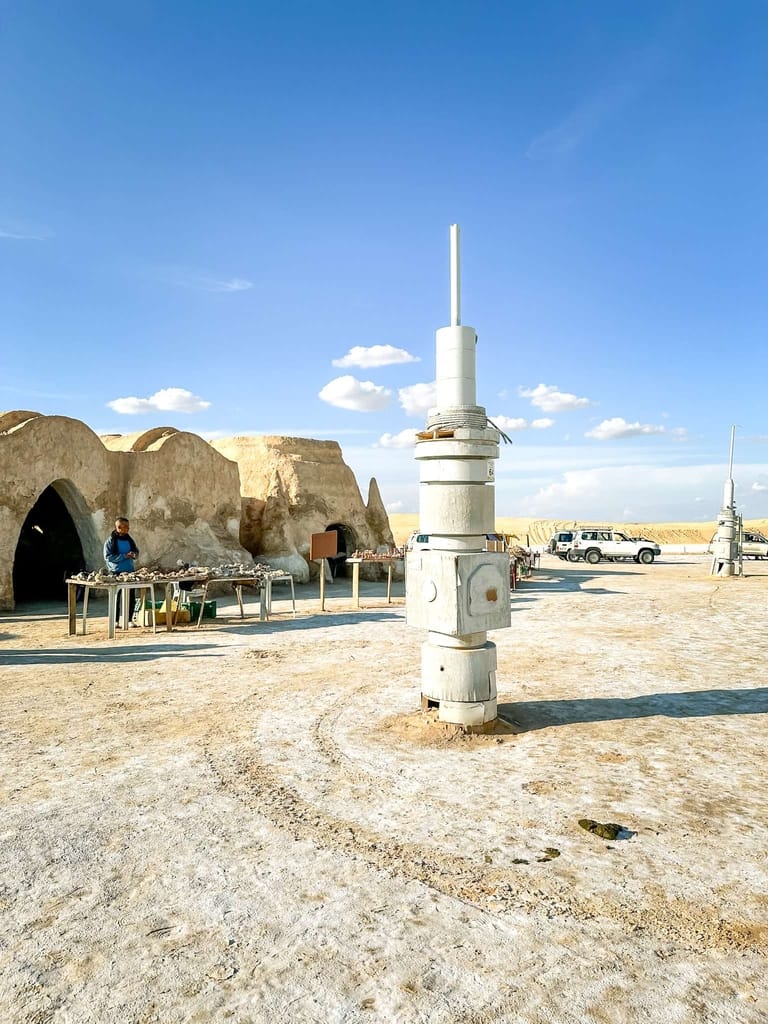 It was surreal to visit a location that I'd only ever recognized from the movies. If only I brought a cosplay costume!
Brief History
This set was built for filming all the major street scenes that took place in the spaceport town of Mos Espa in Star Wars: Episode I – The Phantom Menace.
How To Get There
Mos Espa is located near the town of Touzeur and Nafta. The most straightforward way is to take the highway that leads directly to the attraction from both towns. (Make a right off the P3 highway into Naftha and continue straight until you reach the set).
If you book a tour, you'll likely experience a more exciting ride in a 4×4 vehicle off-roading to view various other attractions in the desert before reaching the film set.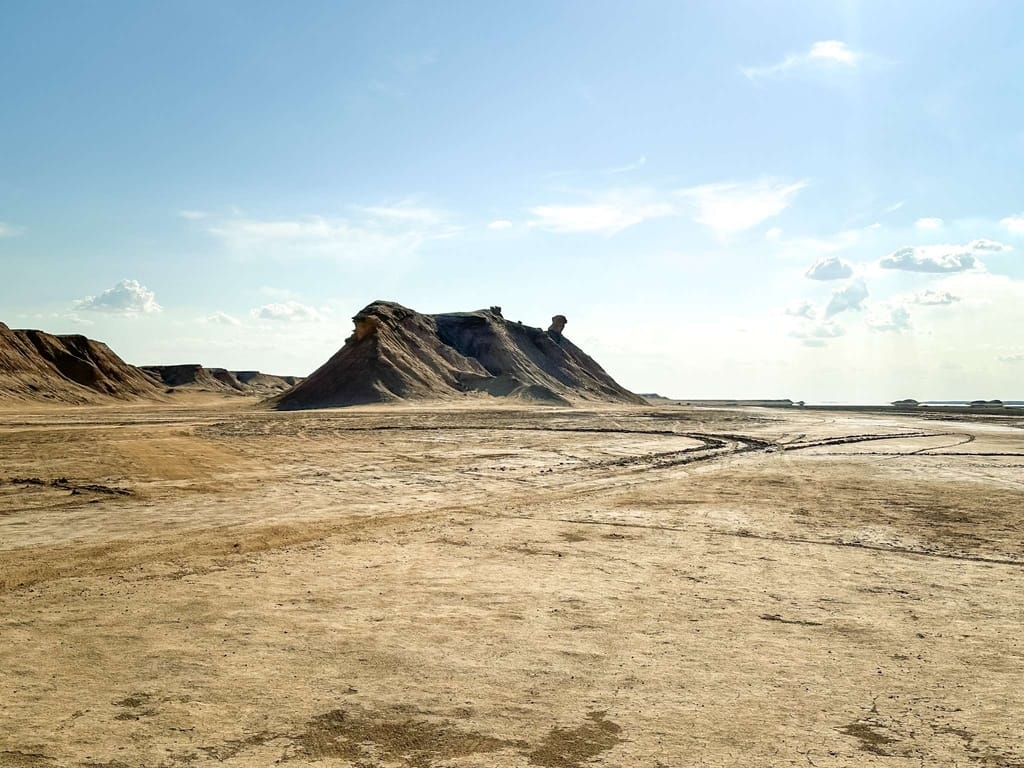 Mos Espa Tips
This is the one attraction where we experienced the most aggressive hassling to buy souvenirs. Skip the souvenirs at this place; most didn't look authentic.
Skip the camel rides they offer. You can walk the whole site in under 30 minutes.
Tunisia is a beautiful country with so much to see and do from the coast, all the way to the Sahara. A country that has never been on me and my fiance's radar quickly became of our most memorable travel trips.
Have you heard of Tunisia before? Have you visited any of these locations or want to? Leave me a comment below!