As part of our 10-day adventure exploring Tunisia, my fiance and I had to add the Sahara desert to our bucket list. I could not wait to share my thoughts about our luxurious, remote desert escape at the Anantara Sahara Tozeur Resort in my review below.
As a Booking.com affiliate, I may receive a commission if you book a stay through any of my Booking.com affiliate links.
Anantara Sahara Tozeur Resort Review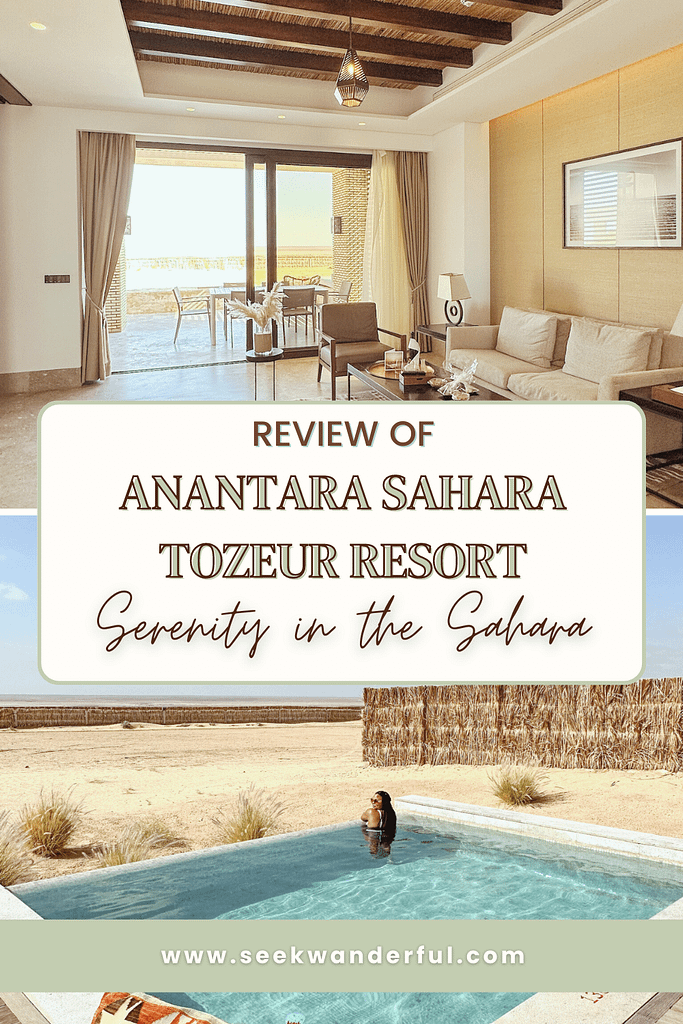 Arrival
The Anantara Sahara Tozeur Resort is a luxurious, 5-star accommodation located in the Western region of Tunisia, bordering the edge of the Sahara Desert. It's a five-minute drive from the city of Tozeur, an hour's flight from Tunisia's capital, Tunis, or a 6-hour drive.
We were coming in from Tunis and were unable to find an available flight. We rented a car and braved the 6-hour drive during a flash rain storm. (I later learned the lack of flights was because my fiance searched for the wrong dates)! Between sporadic downpours and navigating flooded stretches of highway, we admired the changing landscape from the bustling city to an endless horizon of sand.
Thankfully as we approached the city of Tozeur, rain clouds disappeared and gave way to a shining sun. As we pulled up to the Anantara Sahara Tozeur Resort, I was immediately in awe of how grand it was.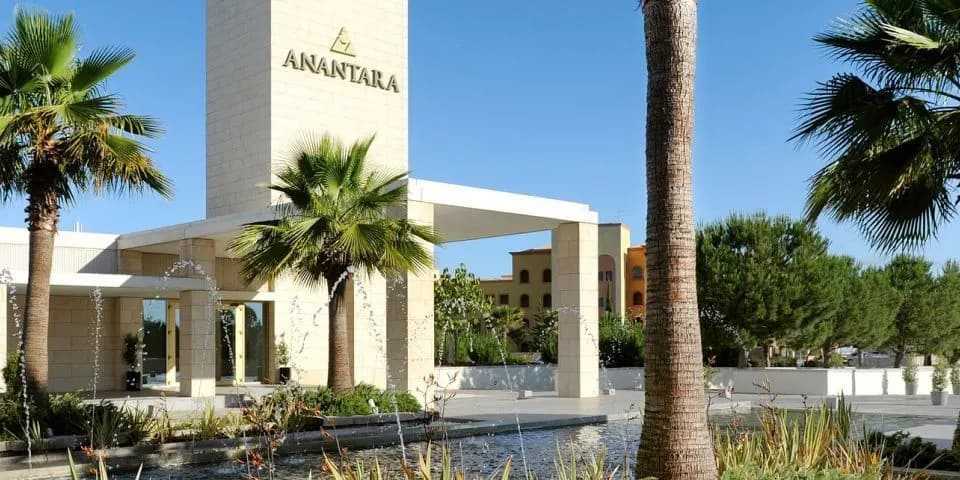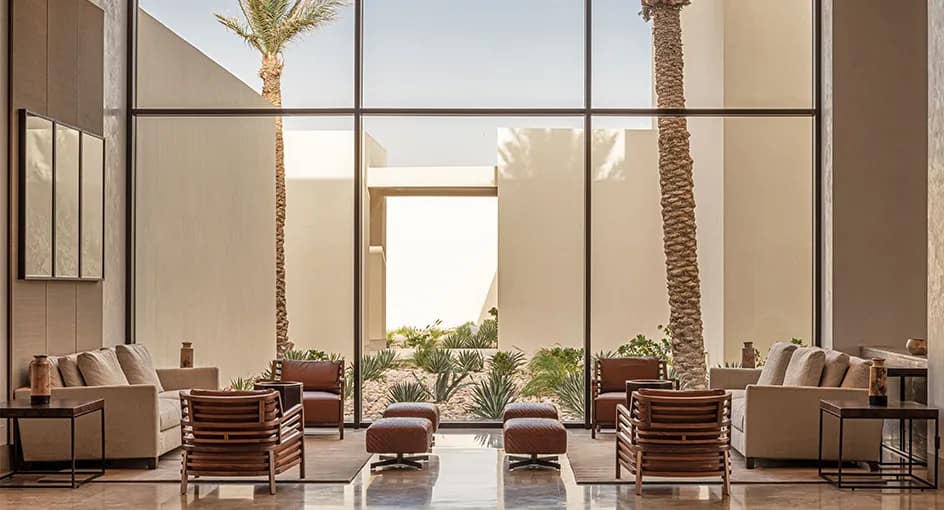 First Impressions
Earth-toned buildings rising from the sand and scattered between palm trees made the resort seamlessly blend in with the surroundings. My exhaustion from the drive melted into relaxation the moment I entered the lobby and inhaled the warm scents of citrus and florals while admiring the bright interior, high ceilings, arched doorways, marble flooring, and wood and tapestry accents.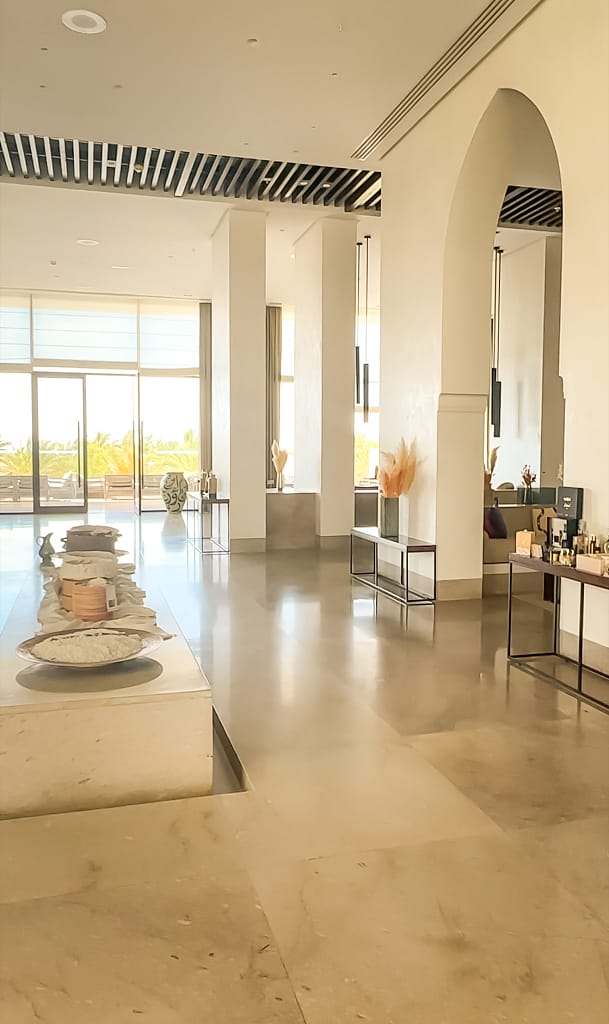 As the concierge prepared our room keys, we were led through the lobby to the terrace to enjoy the view, complimentary refreshing, cold glasses of their signature date juice, (FYI, "juice" in Tunisia is more like a smoothie), and rang a gong to welcome our arrival. We were then driven to our room via golf cart, where our driver gave us a quick tour of the grounds before we settled in.
We visited Anantara Sahara Tozeur Resort right before the start of a busy tourist season (the last week of May through the first week of June) and scorching heat so the resort was relatively quiet with few guests. Overall, the staff went above and beyond to ensure our comfort and our room was breathtaking and spacious, and I highly recommend this dreamy resort if you're looking for ultimate relaxation.
Accommodations
Resort has 93 total accommodations: 50 desert view rooms and 43 villas.
We booked a one-bedroom pool villa and it was massive with a separate living room that opened up to an expansive patio complete with an outdoor dining table, fire pit, day bed, and patio beds overlooking the largest salt lake of the Sahara Desert, Chott el Djerid. It was also a pleasant surprise to find a fitness mat in the large dressing room.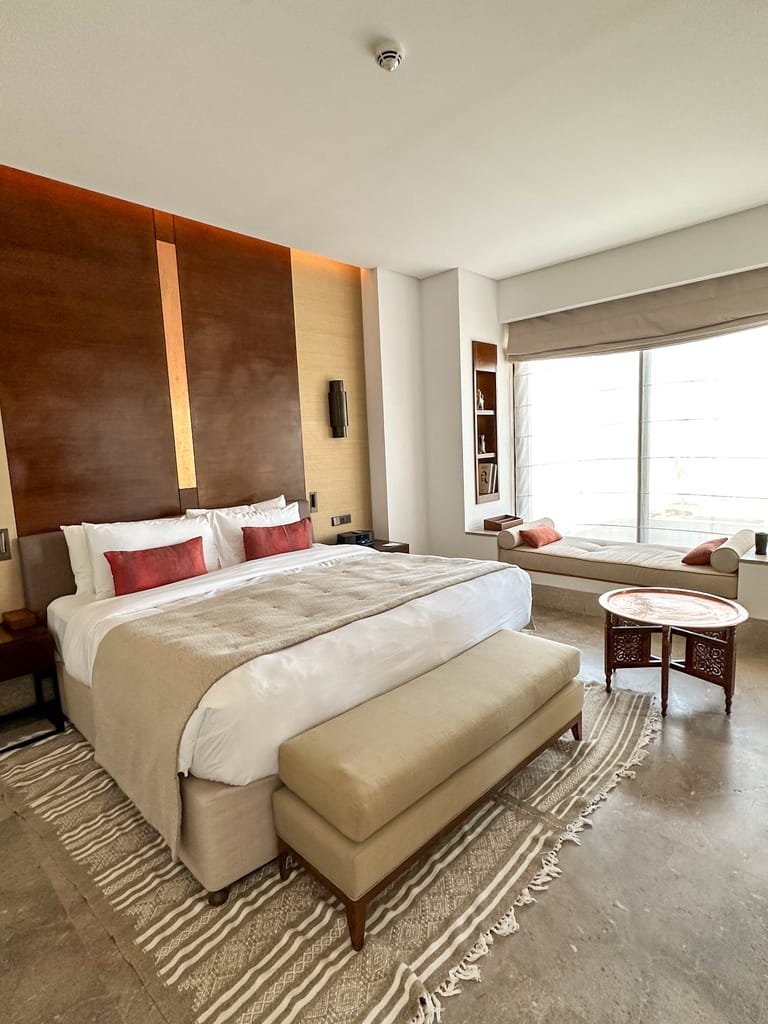 Highlights for this villa were the outdoor rain shower, stand-alone tub, patio, and of course, the private pool.
The only complaint was the slow water pressure for the inside shower. I had to take longer showers to rinse off completely.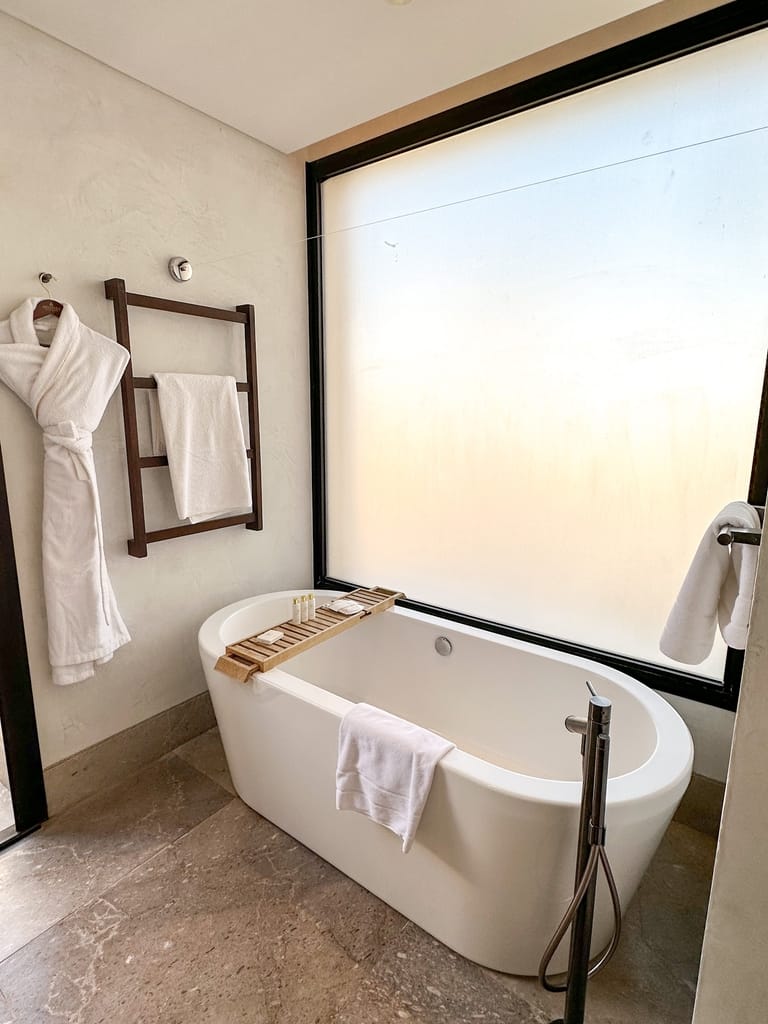 Video Room Tour
Here's a quick room tour!
Facilities
There are three pools: one for families, kids, and adults only. We spent most of our time lounging by the adult pool and taking advantage of the pool bar, before heading back to our villa to enjoy our private one.
The extra large wicker lounge chairs sounding the pool can be shared with another person while still feeling cozy. Plus, the filtered shade made the chairs a perfect place to take a nap or to get some work done.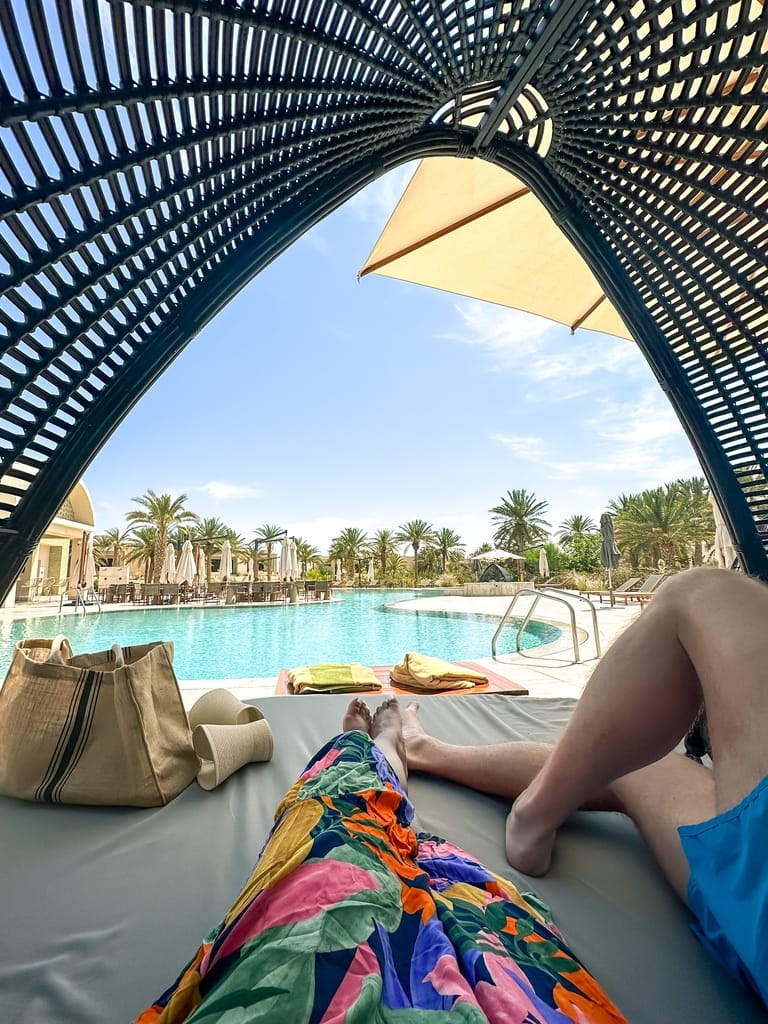 There is also a gym on-site, spa, and kids' center.
There's also a cultural center where they host "Arabian Nights," described as a souk complete with performances, local cuisine, and fun under the stars. It was not open during our stay.
Dining and Drinking
There are several dining options:
Mekong: South Asian inspired
Sarab: International cuisine, buffet style
Oasis: Bar with pizza, pasta, and snacks poolside
Berber Nights: Barbeque and grilled
Arabian Nights: Alfresco dining
Whiskeypedia: Lobby bar with cigars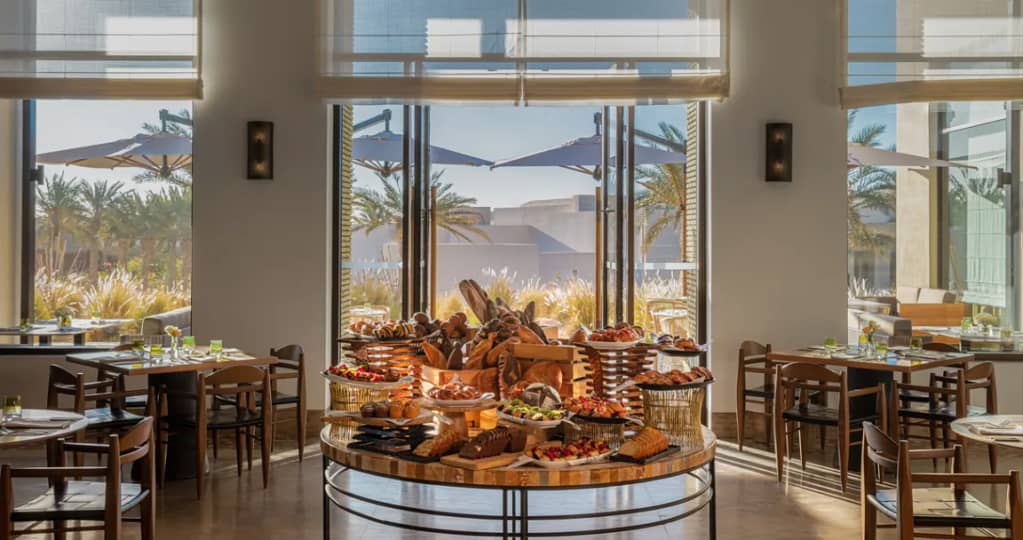 We found ourselves eating breakfast and dinner (always too full for lunch) at Sarab every day during our stay and were never disappointed. While they offered a wider variety of food choices, we indulged in as much Tunisian cuisine as we could including shakshouka, harissa, couscous, baklawa, lamb, and Tunisian mint tea.
The resort also offers a "Dining By Design" experience where you can enjoy a beautiful, in-room dining experience (think cushions, candles, music) or somewhere out in the desert, with your chef, to prepare your meal.
Recreation and Experiences
The Anantara Sahara Tozeur Resort gave us a pamphlet that outlined a mix of adventurous and laid-back experiences including:
Camel riding
Four-wheel driving in the Sahara
Visiting a local waterfall with an oasis
Visiting the Medina of Tozeur
Desert photoshoot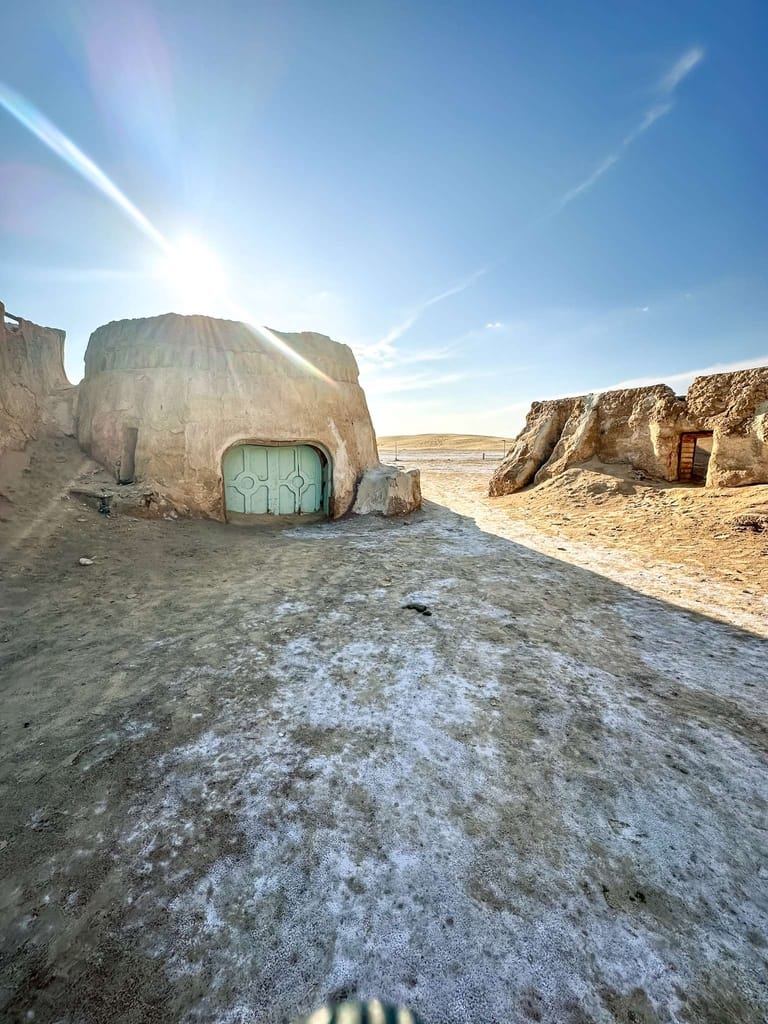 We opted for the Stars Tour to visit "Mos Espa" where escorted in a 4×4 through the Sahara and also stopped to visit other local sites along the way.
We stopped by Ong Jemel first which is another backdrop to the Star Wars films. Normally, we would be able to ascend the mountain but because it recently rained, our guides warned us the sand would be too dangerous to trek on. (That's why you see me standing to the side).
After visiting the main Star Wars shooting local, we also visited the Medina of Tozuer and a date farm.
Before returning to the resort, our tour guides surprised us with a Saharan sunset picnic complete with tea and snacks.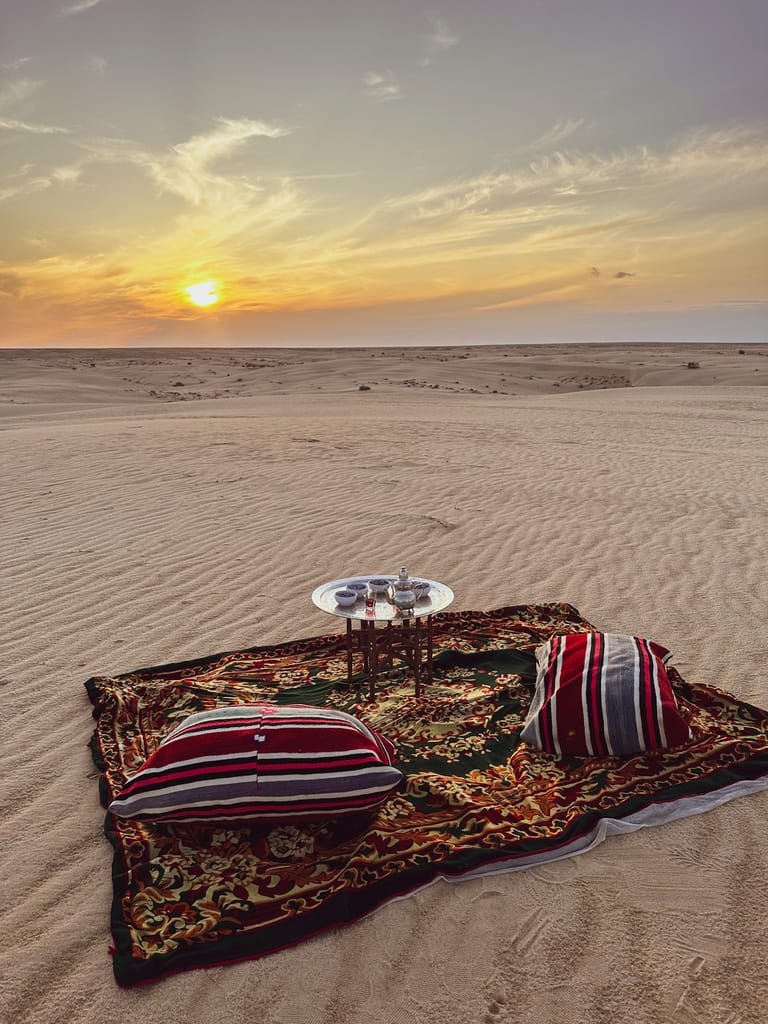 Final Thoughts
The Anantara Sahara Tozeur Resort is an ideal desert haven for those looking for serenity in the Sahara and a remote escape in luxury while getting the opportunity to choose just how much of a Saharan adventure you want to indulge in.
Want serenity in the Sahara for yourself?