Whether you don't have the funds, are impacted by ailments, or have other obligations like work and kids that take priority, these are all common, understandable reasons why you just can't take off and escape.
The great news is that you don't need to leave your home to experience the wonders of the world. If you're are adventure, here's my list of how to find wanderlust at home when you can't travel.
How To Find Wanderlust At Home When You Can't Travel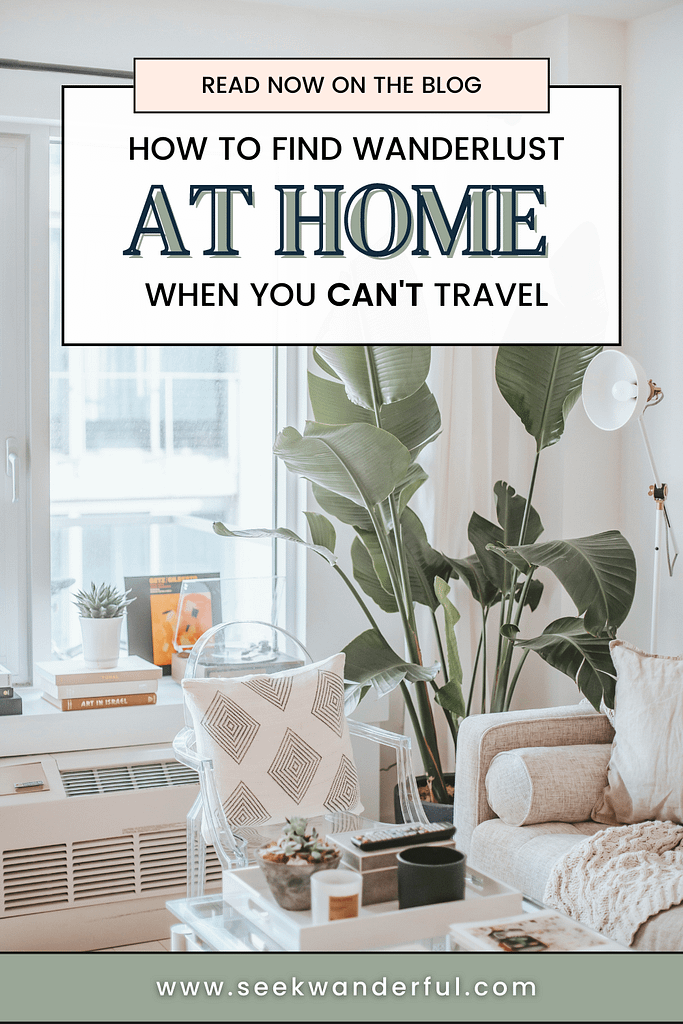 Feed your culinary curiosity
One of the best ways to explore the world is with your taste buds. Bring the flavors of the world right into your kitchen by experimenting with different recipes. You can:
Host a themed, cultural dinner night or gathering where you and some friends can all cook specialty dishes to enjoy together.
Try a global subscription box. These are great options if you don't have a dedicated store dedicated to carrying region-specific products. Choose from meal kits, snacks, groceries, and more.
Pinterest is still my top resource for recipes of all kinds for the last decade. My dinner, drinks, and dessert boards are filled with various kinds. I love Asian-inspired dishes and follow Tiffy Cooks for her easy Asian recipes.
Every city and town has something unique worth exploring. When I say "hidden," I am referring to an experience or place that many may not be aware of. To find hidden gems, try:
Google; it's not just for places you know about. Pull out Google Maps, type in a location, and zoom in to see what's around the area. If it looks interesting, check it out. I've done this many times at home and abroad and I've come across cool stores, eateries, neighborhoods, and sites (and sometimes the occasional "no entrance" sign so do exercise caution).
Leverage Tiktok and Instagram. Social media has made it so much easier to get the inside scoop on deals, hot spots, and fun places to explore. Type in a city and see if there are accounts dedicated to food or travel. You can also search specific hashtags to see what folks in your area are enjoying that you may not have experienced yet.
Check out local blogs and bloggers. Sometimes the best and most specific information you're looking for will come directly from someone who has "been there and done that." This information is usually from smaller blogs, Reddit communities, and Youtube videos. Get specific with your search terms and see what results you get.
Local connectivity events. Who says you have to explore alone? Take advantage of apps like Meetup, Eventbrite, and GoFindFriends to meet with other people in your area who share similar interests to explore. There are also region-specific groups, chapters, and apps that make it easier to find things to do right where you call home.
Enjoy a staycation
No passport is needed to take a trip to a neighboring town. The beauty of a staycation is that travel time, costs, and, planning can be cheaper, faster, and easier when you're planning a trip that's local than abroad. A staycation can be anything really. The goal is to get you outside of your usual routine and feel as if you're "away." You can:
Spend the night at a nice hotel or bed and breakfast. This is my favorite type of staycation because the act of sleeping in a nice place that isn't my house makes the trip feel extra special. I usually book a hotel when I know I will spend all day at a winery that isn't close to home or I take a trip out of town and don't want to drive back the same day.
Go camping. Or glamping. Or simply go outside, touch grass, and lay in it. Being out in nature is a nice break away from the hustle and bustle of city life.
Take a tour. Do the touristy things in your home town. Foot tours, walking tours, or site-seeing tours– whatever interests you. Touristy? Yes but also, fun.
Enjoy a spa day. Being pampered and relaxing all day evokes all the feelings of a vacation near home. When I used to live in Riverside, Glen Ivy was the best place for all-day lounging in the middle of the Inland Empire.
Uplevel your home decor
Make your home, dorm room, or apartment feel like your personal paradise. There are so many inexpensive ways to decorate your home just the way you want to. Really the sky is the limit here. You can:
Use color schemes: My house has a lot of dark blues and Earth tones because I was aiming for a Greek meets Japandi vibe. From the wall paint to my throw pillows, I wanted my space to feel calm and to remind me of my favorite places in the world.
Incorporate fragrance. Smells are connected to memories and emotions. Smells can help us recall fun moments and can also calm us. Whether you prefer candles, diffusers, or body products, there are multiple ways to incorporate fragrance to spark wanderlust at home.
Incorporate plants: Plants are a fun way to breathe life into a space. I recently started gardening and it's an amazing feeling to tend to something and watch it grow. If watering plants and gardening seems like too much work, try low-maintenance plants like succulents.
Set the mood with music. Personally, I love my shower time. Since I purchased an overhead shower, it feels as if I'm always taking a warm summer in my own private oasis. I have an Alexa in my bathroom so that when I shower, I can listen to lo-fi or jazz which helps me feel even more relaxed during my shower time. When I'm lounging around the house, I like to have music playing in the background, as if I'm at a coffee shop.
Use peel-and-stick wallpaper: They can truly transform a space based on your mood and preference. Also, self-adhesive wallpaper makes it so much easier to hang up without additional help. About 6 years ago, I purchased peel-and-stick wallpaper from Target to decorate my office cubicle! While I haven't used wallpaper in a long time, I am still a huge fan. Check out some brands on Amazon.
As an Amazon affiliate, I may earn a commission if you shop using my Amazon link.
Indulge in international tv and travel content
I love K-dramas, C-dramas, and anime so I am usually watching shows with subtitles on Netflix. When I'm not watching shows, I'm watching Youtube videos about travel recommendations.
When you're watching that many international tv shows and travel-related content, you also get to learn a bit more about those cultures from the comfort of your couch.
There are also many places I think are amazing but not necessarily interested in visiting. Being able to watch travel recommendations and recaps is enough to satisfy my wanderlust for what it's like to visit there.
Learn a new language
If you want to immerse yourself in another culture, try learning a new language. 33% of the world's population is bilingual. Even if you're not traveling abroad, it's highly likely that you will encounter folks that speak other languages where you live and work. Wouldn't be fun to be able to converse in another tongue?
The benefits of learning another language include:
Connecting with more people. The top most spoken languages in the world are English, Mandarin, Hindi, Spanish, French, Arabic, Bengali, Russian, Portuguese, and Urdu.
Having an advantage in the workplace. Many companies have global offices or offer services globally. Whether you're working with colleagues, or helping a customer, knowing a second language can set you apart as a desirable asset for the team.
Makes learning other languages easier. Many languages share the same language family. You may notice some words sound the same or their grammar structures follow similar patterns, which makes it easier and faster to learn.
When you can actually travel, it also makes traveling easier; from asking for directions to ordering food in the Native language of the place you are visiting.
My favorite learning app right now is Duolingo with its fun challenges and short lessons.
Write postcards
Writing and sending postcards is a fun and thoughtful way to stay connected with those whom you care about most. Postcards easily evoke feelings of wanderlust with being literal snail mail you're waiting for, wondering where they are being mailed in from. A CBS poll found that 37% of Americans haven't written or sent a personal letter in 5 years, while another 15% of adults have never written and sent a personal letter.
The beauty of postcards is that they come in all kinds of designs, arrive with cool postmarks, and can are cheap to send. Check out my 10 Reasons Why You Should Send Postcards post for more details!
Seek all that's wanderful right at home
The world's a big place. If you're unable to travel outside of domestic borders, start wandering and exploring, where you are. Your next adventure awaits and I'm positive it's a lot closer to home than you realize.