If you've ever questioned your worth, talent, or whether you'll ever be able to get out of "X" situation, you're not alone. I've felt this way many times over the years: whenever my mom would blatantly ridicule my style and body, when I failed to land my "dream job" after graduation, and now, as I navigate my second layoff in three years.
When you're going through it, it can be easy to forget the options you have and what's in your realm of control. Despite moments in my life where I was lost in the den of self-doubt, I've always found my way through, even if it took longer than others. I know you can too.
I'm a firm believer that we all deserve to live the life we truly desire. I've wandered through different career paths, countries, relationships, and hobbies that helped guide me to a life I'm excited to live. I implore you to seek what's your "wanderful" in life and what brings YOU joy.
If you're going through it now and don't know where you start, here's how you can start to live joyfully on your own terms.
Seek Wanderful: How To Live Joyfully On Your Own Terms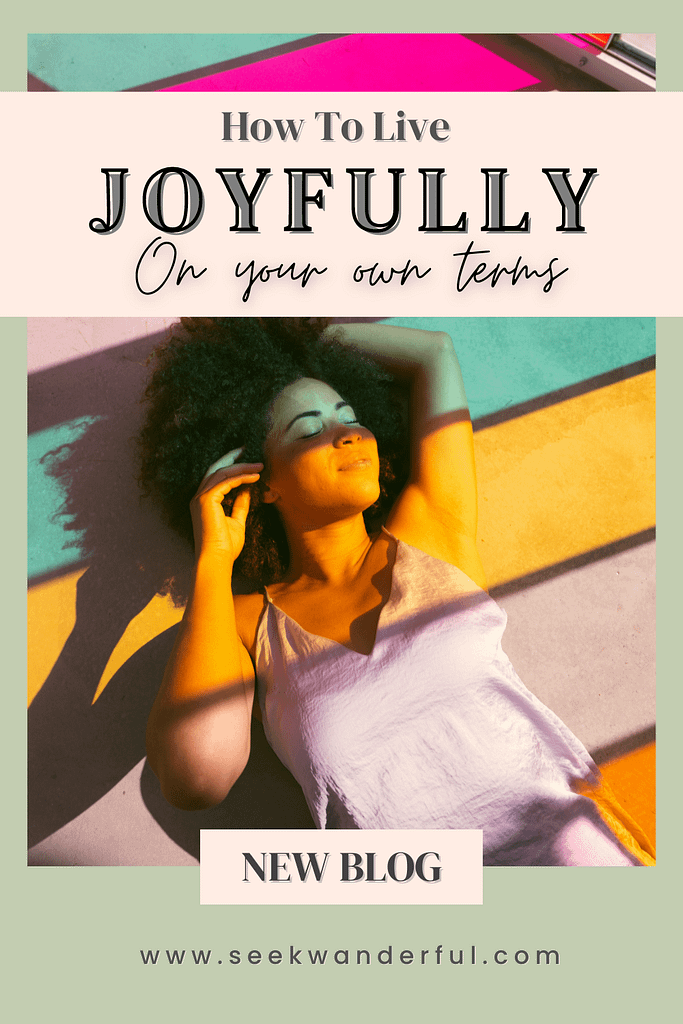 Shamelessly self-reflect
It takes courage to be able to step back and have an honest conversation with yourself. I stress the importance of shameless self-reflection as a reminder that when it comes to how you want to live your life, your decisions are the ones that matter most.
We can be easily influenced or shamed by other people's needs, expectations, and judgments. Thus, to shameless self-reflect is to grant yourself psychological safety to gain clarity on what you truly want and value.
Some questions you can ask yourself include:
What would an ideal day look like for me?
What do I value in life?
How am I feeling now? What do I want to feel more of?
What are the current stressors in my life? What are the underlying causes contributing to my stress?
Where am I struggling? What are some ways I can overcome these struggles?
What are my strengths?
What motivates me?
What are some moments in life where I felt the happiest? The most proud?
What would my ideal future look like?
The goal is to not answer every question but to gain clarity on the underlying factors impacting how you're feeling and your outlook on life.
Set your intentions and act on them
After you achieve clarity around what you want and don't want out of your life, you'll now want to set your intentions and act on them. Intention setting is the process of creating a mental state, theme, or mantra to practice in the present to help guide and plan your actions for what you want to achieve in the future.
Intentions are a conscious state of living while goals are defined actions to achieve by a specific deadline. They're also great for reframing your mindset so you feel more confident and prepared when you're ready to commit to a goal.
Intention types
There are several types of intentions: daily, weekly, monthly, and yearly. If you're new to intention setting, I recommend setting a daily intention. It's a low-pressure way to maintain sustainable change since you'll be focusing on the present moment.
Your intentions are unique to you and meant for you. They can also be specific or broad. Overall, they should use positive and affirming language. For example:
Instead of, "Today, I will be less negative," try "Today, I will speak more kindly to myself."
Others examples:
Today, I will be more open about my feelings with my partner.
Today, I will take time for myself to do something that brings me joy.
How to act on them
Once you start recognizing the intentions that resonate most with you, write them down. It can be on a sticky note, a journal, the Notes app on your phone, or even a recorded voice note. Writing them down helps you visualize what you want and serves as a physical reminder of how you will start crafting the life you're excited to live.
Then, all that's left is to act on them. Begin with a ritual that motivates you to want to act. That could be sitting down in your ideal cozy space and reviewing the intentions you wrote. Or reciting them as you meditate. Or reciting them out loud right before you perform them.
Again, your ritual may look different from someone else's; all that matters is that it makes you feel comfortable, calm, and motivated.
Set boundaries
Whenever you are working toward something you want, you can expect to run into some bumps in the road that may try to slow you down, distract you, or derail you. Those bumps can be your own thoughts, other people, or whatever else life decides to throw your way.
Setting boundaries is essential to protect your physical, mental, and emotional health. They are personal limits meant to protect the life you want to live and enjoy.
When it comes to boundaries, consider what makes you uneasy, drains you, and distracts you and how to limit them. Below are some scenarios and examples:
Boundary Type
Limits
Boundary Examples
Work-life
Define your set working hours and practice "signing off."
– No checking emails after 5 PM when you close your laptop for the day.

– Let your colleagues know when and how to communicate with you.
Emotional
Consent to vent/emotional capacity to provide support.
– Only offer help when you have the mental capacity for it.

– Inform others to ask for your consent before venting their emotional troubles.
People-pleasing
When someone is pressuring you to do something and/or making you feel bad for your decisions.
– Practice saying "I'll get back to you" instead of "Yes" so you have time to make informed decisions.

– Inform others that they are making you uncomfortable and to stop.
One of the most important elements of boundary setting is clearly communicating your boundaries with others. Some people may not know what your boundaries are and clearly expressing them is a great way to curate, cultivate, and strengthen personal relationships.
There will be times when some people may not respect your boundaries. You should never adjust your boundaries for the comfort of someone else. It's also acceptable to remove relationships in your life that don't serve you in the ways you need.
Secure a support system
As you navigate through the good, bad, and confusing on your journey to live more joyfully, having a support system can help keep you grounded. Support can come from family, friends, mentors, and therapy.
You don't have to navigate what we're going through alone. Having a team of people you can trust to cheer you on, give you feedback with care, or who can simply listen when you need it most, will make your personal journey that much easier to navigate.
Own your journey
Every one of us has a unique story to share and something we're going through. Feel proud in owning your journey; all that you've accomplished, overcame, learned, and might still be learning.
On your journey to living life on your own terms, your needs and values may change. Your personal story is always evolving. Have the courage to explore and wander through all experiences that bring your life joy.