I've spent 30 years of my life without ever sending a postcard until one day, my best friend asked for one.
On a recent trip to Greece, my best friend asked for a postcard as a souvenir. I literally purchased a variety of blank postcards and brought them back to the United States as her gift. She smiled and clarified that next time, I should actually send one to her.
So next time, I did. I sent my first postcard to her from Japan which was actually a beautifully designed Japanese hand fan. Now, I make it a habit to send her postcards whenever I travel.
If postcards have never been on your radar, or have fallen off your radar, here are my 10 reasons why you should send postcards.
P.S. 10 Reasons Why You Should Send Postcards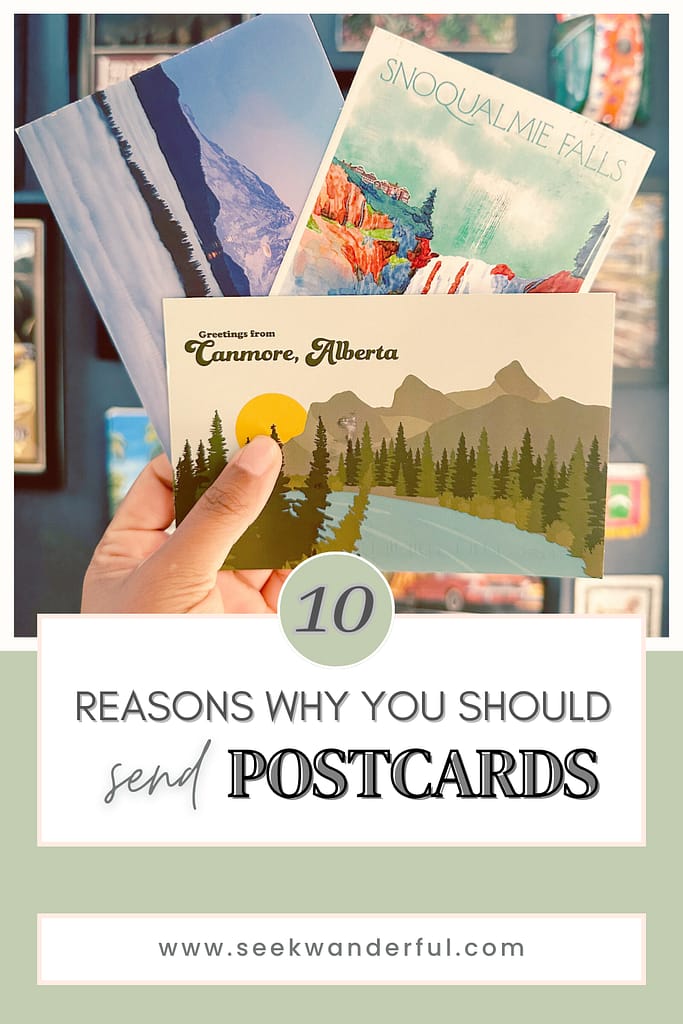 More personal and intimate than a text.
There's something to be said about taking out a pen to handwrite your thoughts to share with someone else. Your handwriting is unique, unlike text messages that are displayed in the uniform script. Your handwriting symbolizes a reflection of who you are while providing visible proof of your existence imprinted on paper.
To physically write is human, personal, and intimate. It requires looking beyond your penmanship (which may or may not resemble chicken scratch) so you can connect with someone else.
I'm positive that whomever you're writing to will care more about what you're writing than how you write. I'm also sure they'll be touched that you chose to handwrite instead of sending a quick text.
Less intimidating than writing a letter.
The beauty of a postcard is that there's limited space to write. Postcards force us to be concise and prioritize the most important snippets we want to share. When writing a letter, you may feel pressured to try and fill a full page.
I remember reading a fanfic where a man would write a single quote on the back of a postcard that he'd then send to his lover.
When you don't have your own words to share, quoting poetry is the perfect way to express your feelings. You can even draw instead!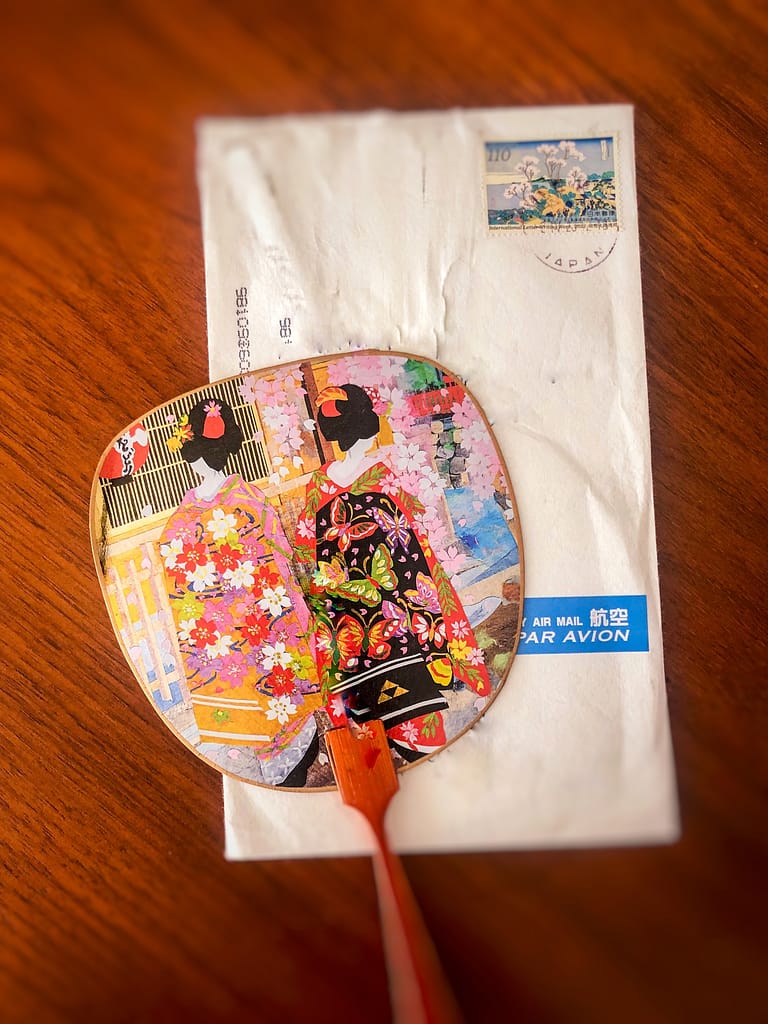 Postcards prompt you to reflect.
Along the lines of limited space, what exactly do you want to share? Which moment, feelings, or thoughts get to earn the coveted space on your next postcard?
There's always so much to talk about when you're traveling, attending something, or doing something you enjoy. When I'm traveling, I like to purchase postcards at the start of my trip and have them on my person. That way, I can pull them out to write "in the moment" when everything is fresh in my mind.
Other times I do my best writing and reflecting when I have downtime such as waiting for my drink at the coffee shop or bar.
There are endless designs.
What I personally love about postcards is being able to select a design that compliments what I'm writing. It could be a photo of a place I visited, something symbolic, or artistic.
Another postcard I sent my best friend was from an anime convention I attended. It had two cats lounging in the sun which reminded me of a weekend we spent at the beach in our early 20s. (Plus, we're both cat moms).
People often associate purchasing postcards with gift shops. However, there are plenty of local small businesses and artists that design and sell postcards that fit your preferences. One of my favorite small businesses that sells postcards (and more) is LostStreetKat.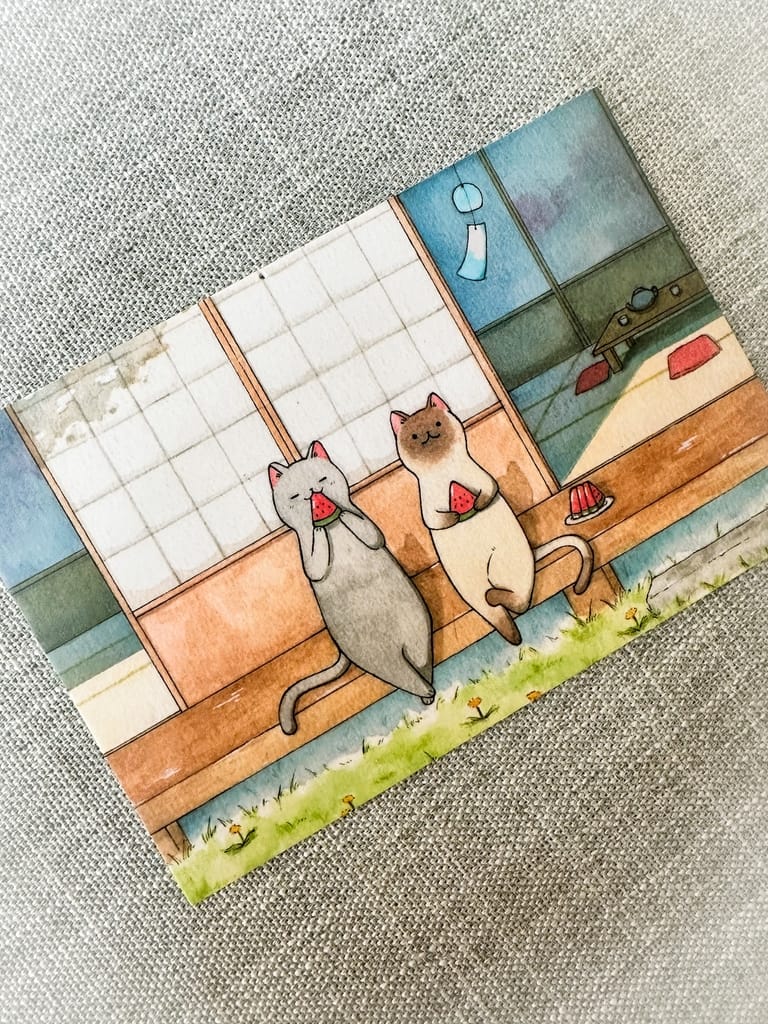 Cheap and compact.
Postcards are cheap to purchase and send, making them one of the best souvenirs if you're on a tight budget. They are also easy to store and pack without having to worry about space in your luggage or storage in your room.
They arrive with cool postmarks.
Postmarks are imprints from the post office that accepted the postcard. I love the satisfying feeling I get when I see different imprints on postcards. They serve as "proof" that the postcard traveled from one place to another.
They double as eclectic decor.
There are many ways you can incorporate postcards into your home decor. You can pin them to a pinboard or string them up with cute, mini clothes pins.
When I'm not displaying the postcards I receive on my fridge or keeping them safe in a special box, I'm collecting artisan postcards to tack up on my wall.
Here's a snap from my home office: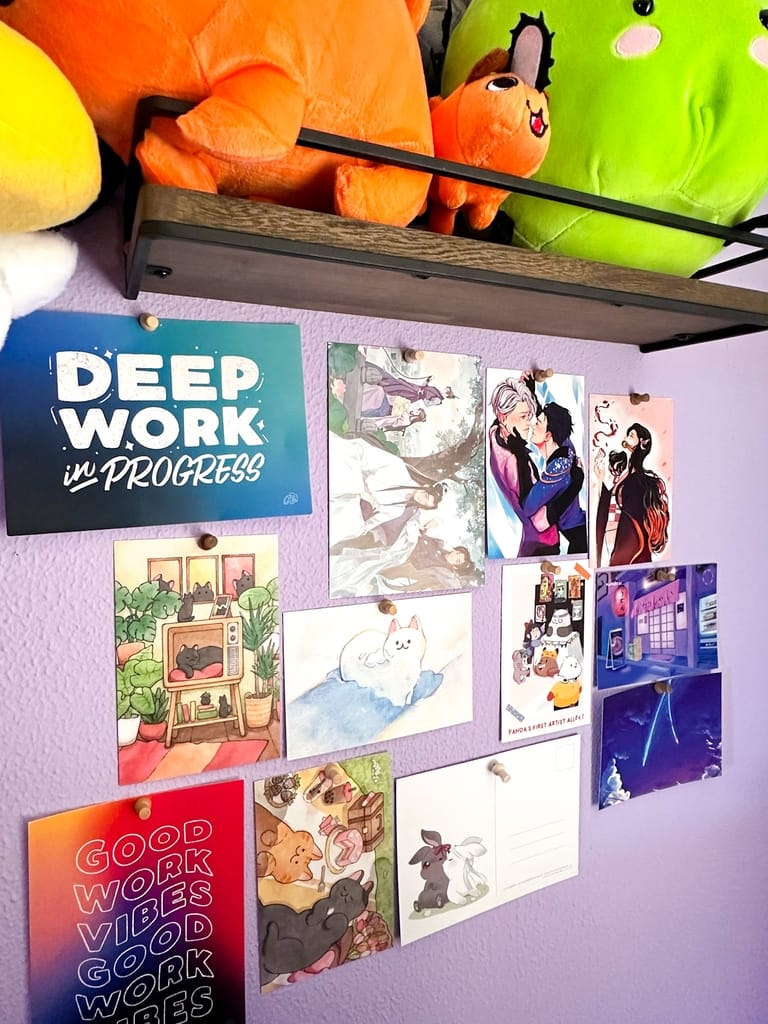 A fun alternative to journaling.
If you're not keen on the idea of pulling out a physical journal to write, leveraging postcards is a fun, alternative way to capture a memory. You can even create a visual travel journal or album from your postcards.
You can mail one to yourself.
Who says postcards are only for other people? Sending a postcard to yourself is an easy way to remember and recount your travels.
Nostalgia: It's a lovely surprise in the mail.
Marketing materials and Amazon packages are likely what makes up your daily snail mail. But when was the last time you received or sent a handwritten note? A CBS poll found that 37% of Americans haven't written or sent a personal letter in 5 years, while another 15% of adults have never written and sent a personal letter.
Aside from the intentionality behind handwriting notes, imagine the anticipation of waiting to receive one! If you want to immediately make someone's day, these staggering stats should be enough reason why you should be sending postcards today.
Start sending postcards, today.
To wrap up, sending postcards is more than just a fun hobby. It's a simple and meaningful way to intentionally connect with others, express your creativity, and breathe life into the dying art of letter sending.
Are you a fan of postcards? When was the last time you sent one? Or received one?