When my partner and I embarked on our first international trip, we chose the magical destination of the Maldives. Little did I know that I would walk away engaged!
Naturally, I couldn't wait to share every enchanting detail of our experience in this comprehensive Lily Beach Resort and Spa, Maldives review.
As a Booking.com affiliate, I may receive a commission if you book a stay through any of my Booking.com affiliate links.
Lily Beach Resort and Spa, Maldives: Review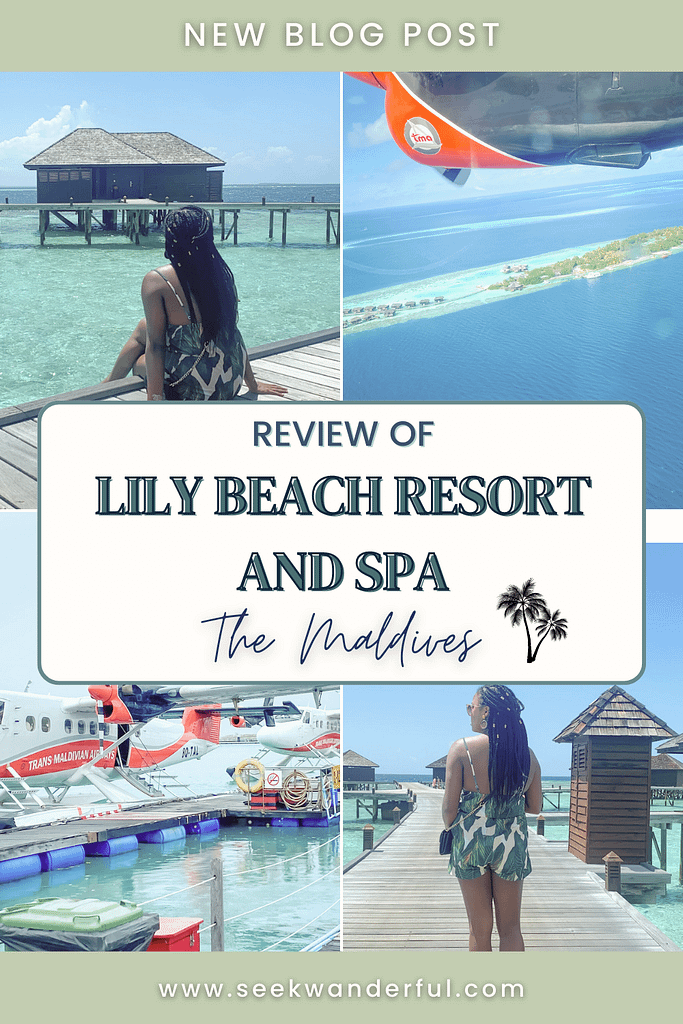 Arrival
After a long but exciting 27-hour flight on Qatar Airways Business Class (it's worth the hype), we arrived at Male Airport. After receiving our luggage, we met our chauffeur who drove us to another area of the airport to wait in a cozy lounge before catching our seaplane to the Lily Beach Resort.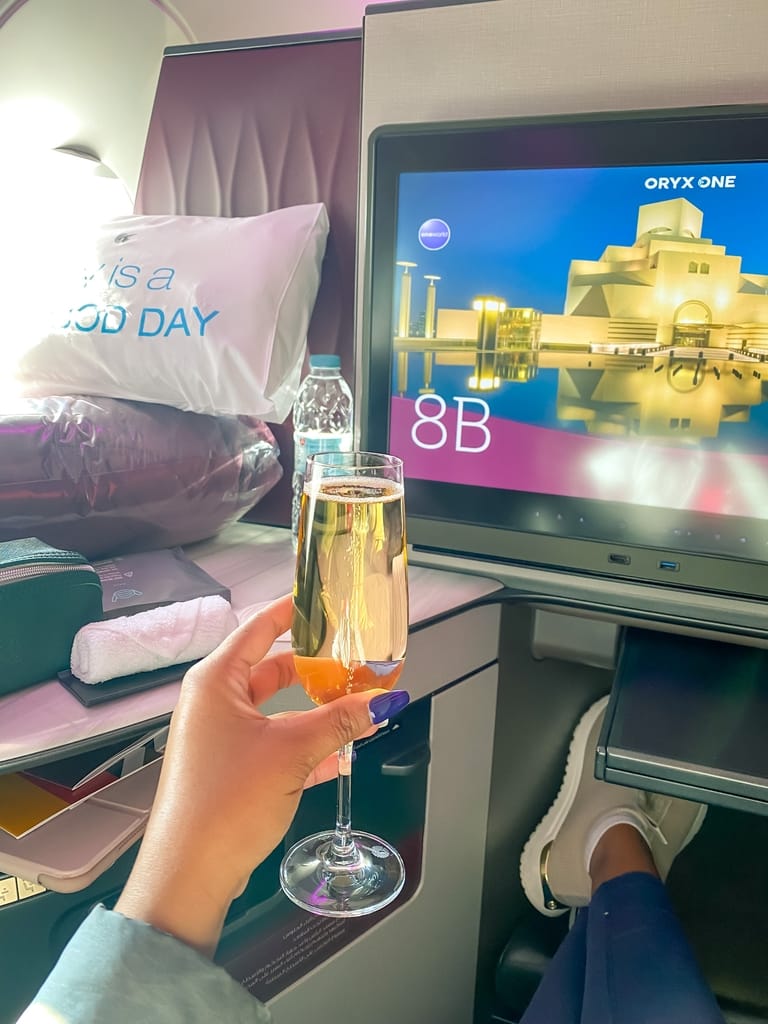 We boarded the compact seaplane swaying gently in the turquoise waters. With pilots driving sans shoes (you read that correctly), we took off. What I thought would be the scariest experience in my life took my breath away in the best possible way. The seaplane didn't fly high and flew moderately slowly, which made the atolls passing below us even more mesmerizing to watch. I still couldn't fathom that in 25 minutes, we would be lounging on one of those beautiful islands.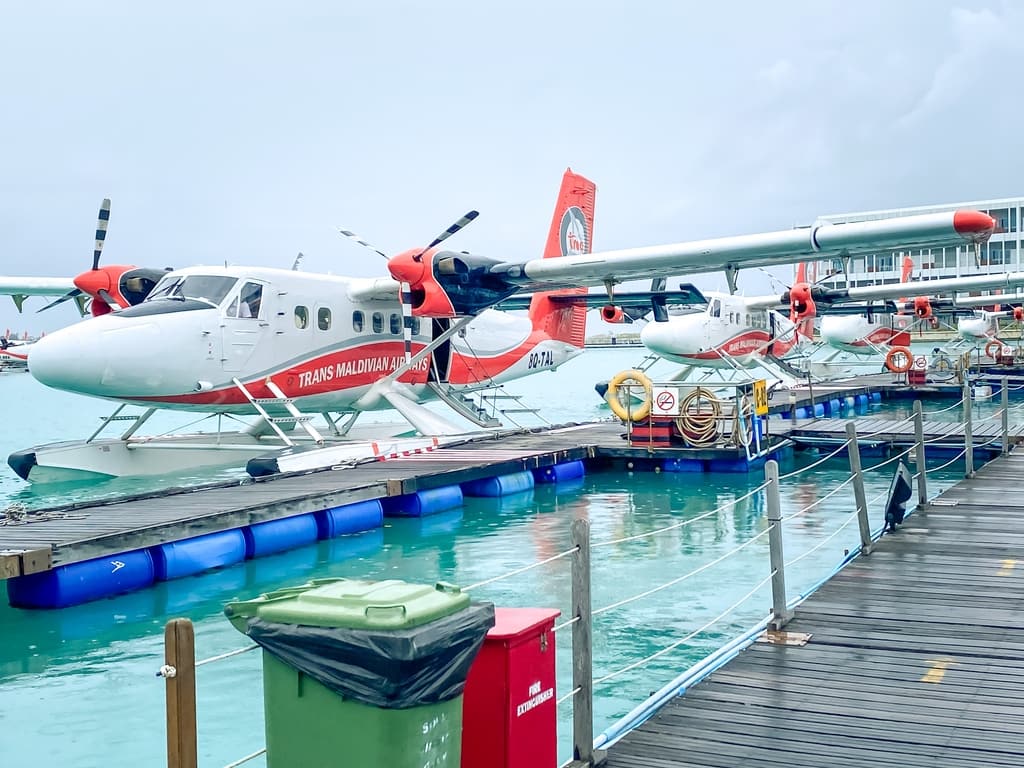 We made a water landing 5 minutes out from the resort where we then boarded a boat to reach our home away from home for the next 8 days.
First Impressions
We were welcomed to this tropical paradise by traditional drumming as we exited the boat. The excitement of finally arriving at our destination washed away any remnants of exhaustion from the long journey.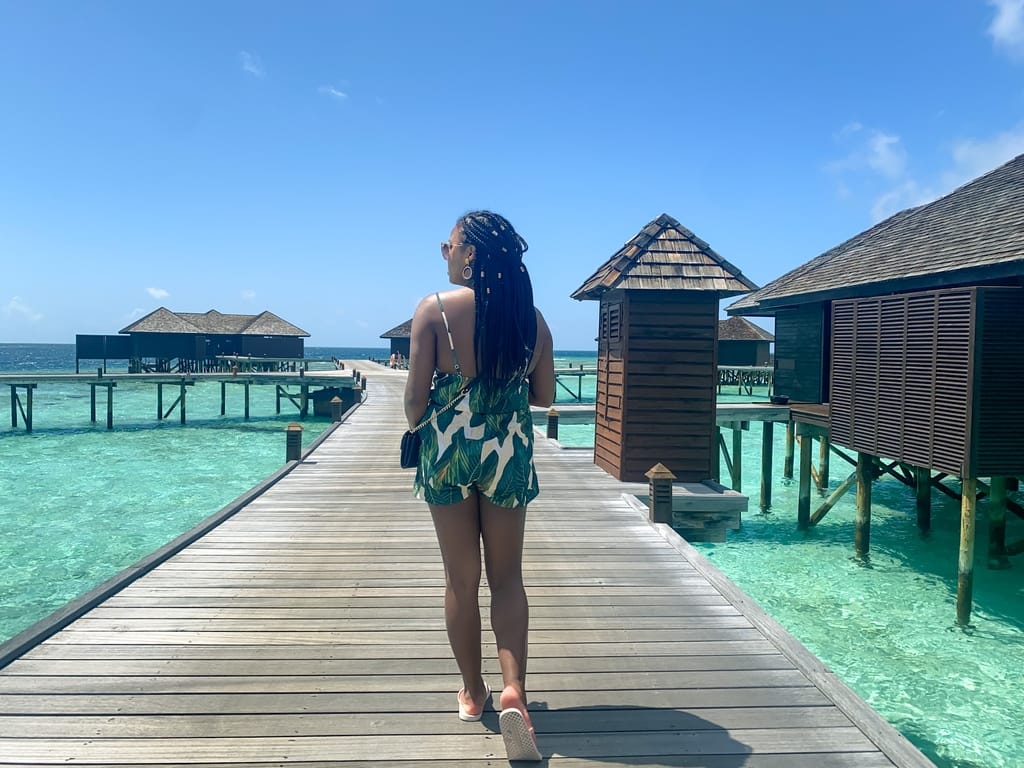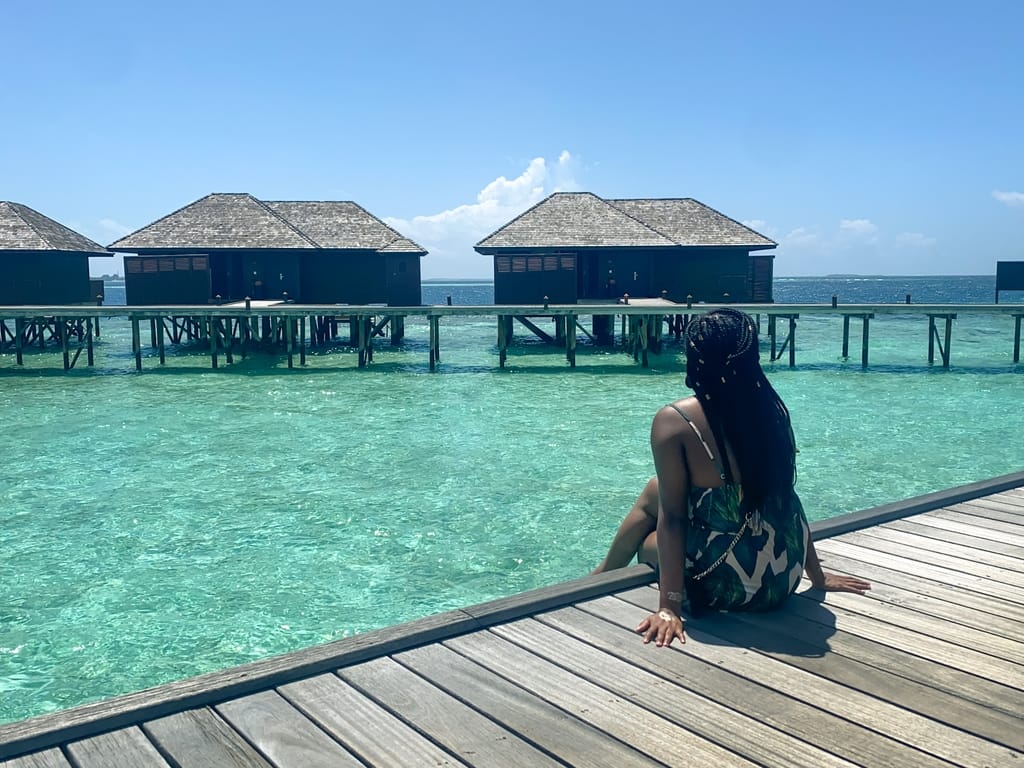 As we made our way down the boardwalk toward the reception area, I couldn't help but be in awe of the breathtaking surroundings. The sights of sparkling crystal clear waters all around us, the warm breeze, and how the resort seemed to blend in with the island itself with sand walkways that extended to the bar, reception, and restaurant. It hit me then that we made it to this part of the world for a trip of a lifetime.
Once we reached the reception area, we were given non-alcoholic passionfruit welcome drinks to enjoy before being ushered to our overwater villa via a golf cart.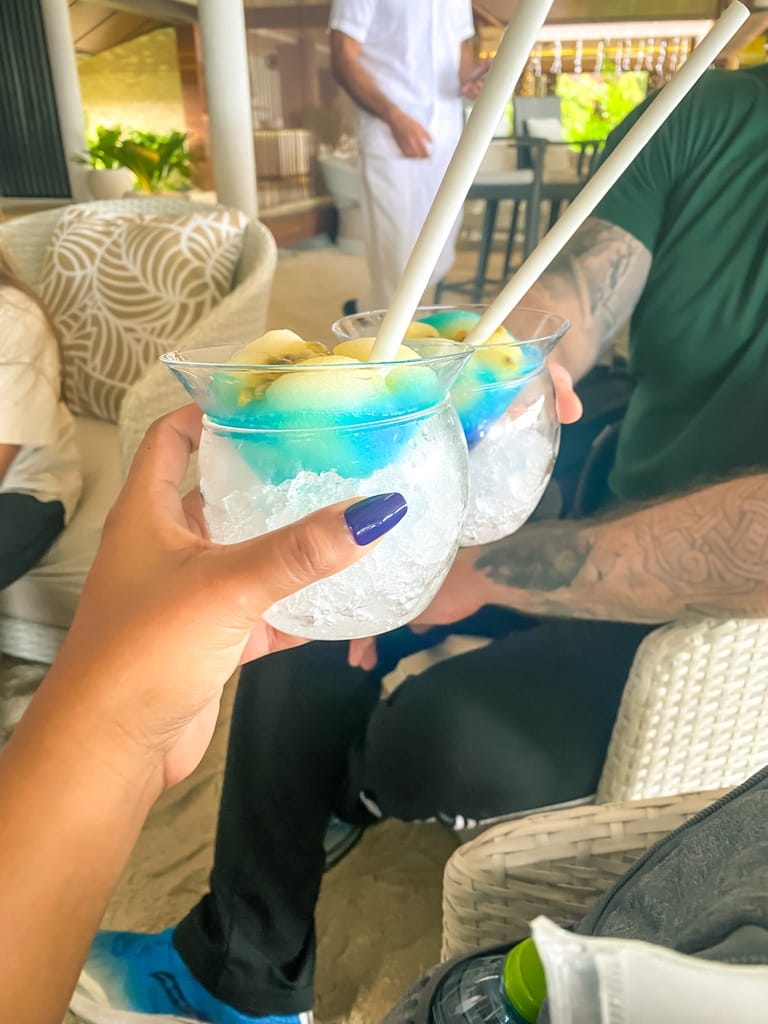 Accommodations
Lily Beach boasts 120 beautifully designed suites and villas that fall under 9 different accommodation types, perfect for couples and families. Whatever your travel vibe is, I'm sure you'll find a room that fits your preference at this resort. At a glance, here's what they offer:
Beach Villas
Beach Suites
Beach Suites With Jacuzzi
Beach Suites With Pool
Beach Family Villas (5)
Beach Residence With Pool (1)
Lagoon Villas (16)
Deluxe Water Villas (46)
Sunset Water Villas (4)
We stayed in Deluxe Water Villa complete with a private pool on our deck and direct ocean access. I judged a book by its online photos and the room blew my expectations out of the water.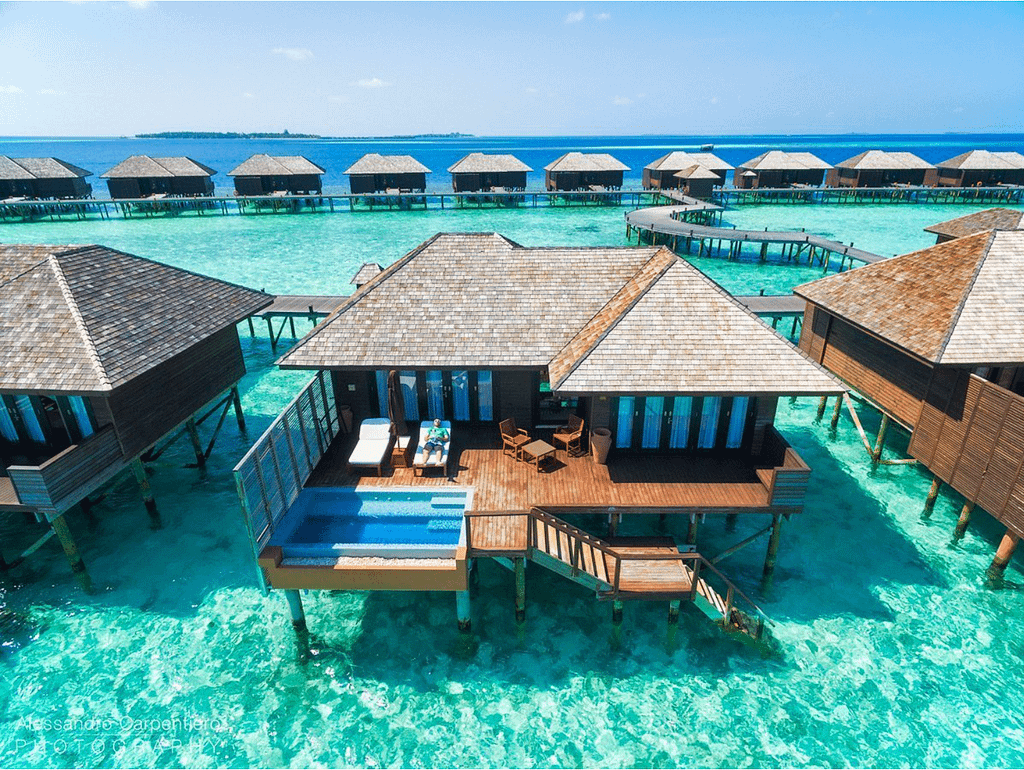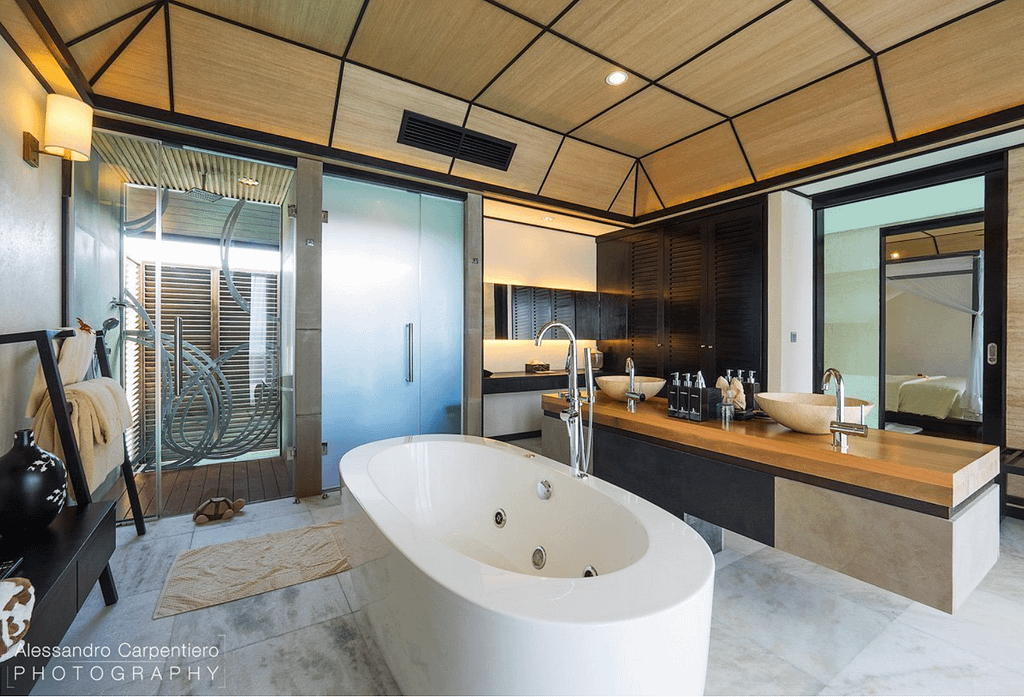 As we jumped off the golf cart and opened the door, the first thing that captured our attention was the glass floor of the entryway. It was so surreal to see fish swimming freely directly under us from inside our villa.
Check out our room tour video!
The bathroom's unique design included a shower and toilet in separate indoor/outdoor "booths." There was also a standalone jacuzzi bath facing the double doors that opened to the private deck.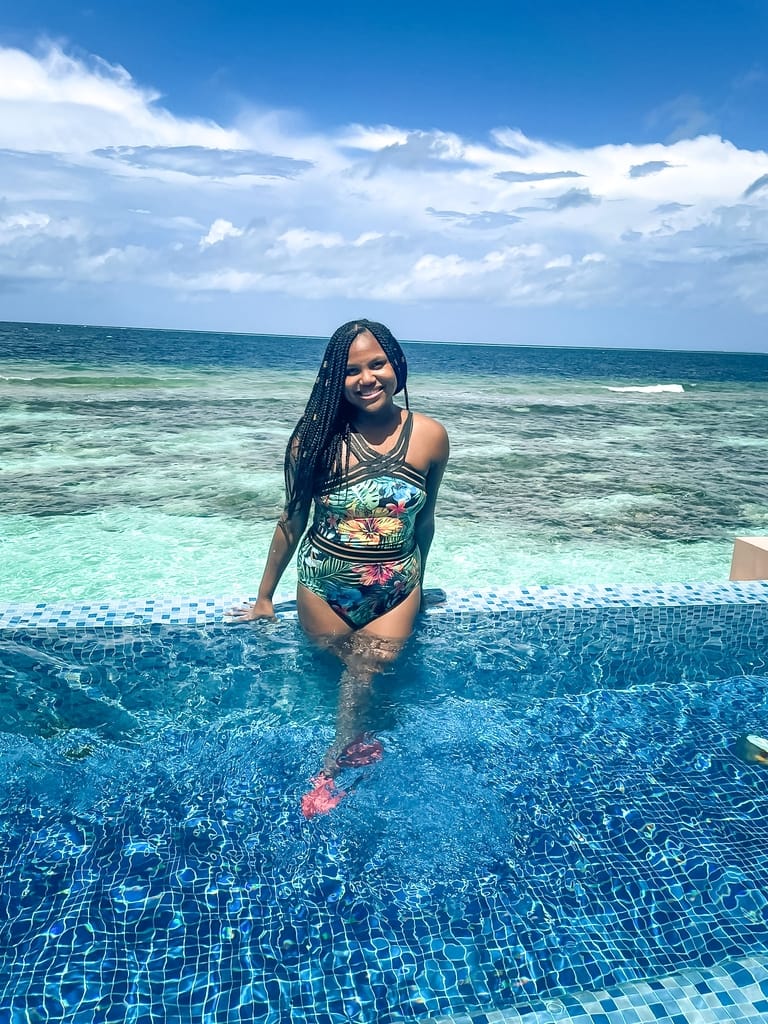 The sleeping area featured a queen bed with protective canopy netting, another lounge bed, a stocked mini-bar, a big-screen tv, and another set of double doors leading to the deck.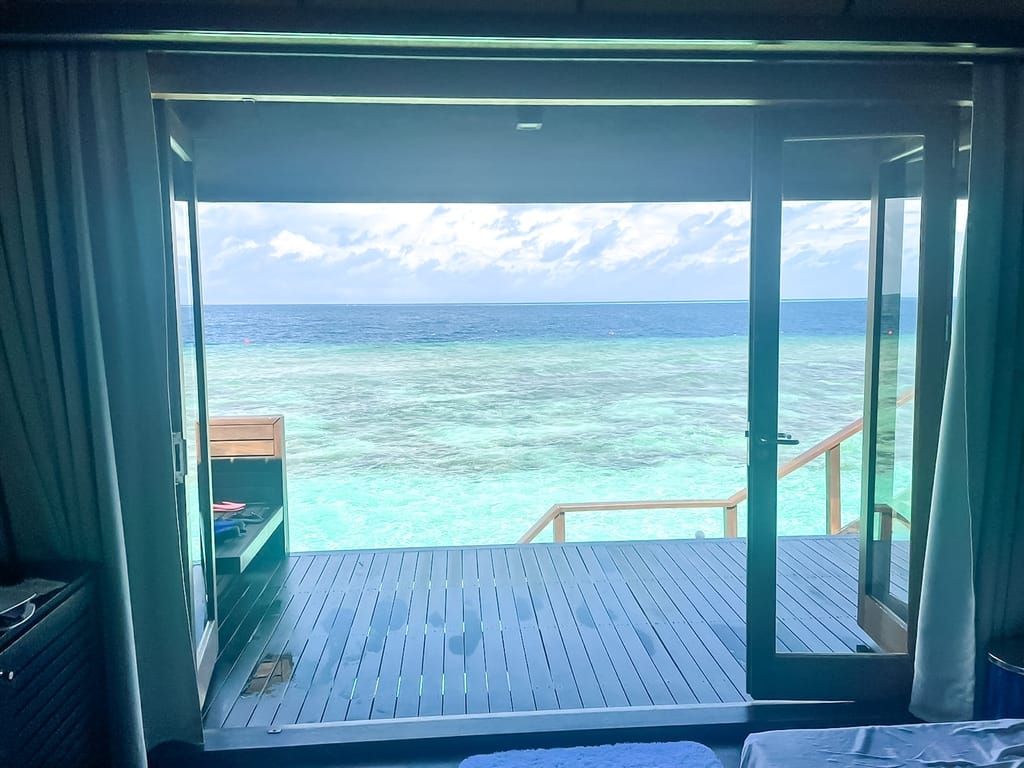 On the deck, we had a small dining table, lounge chairs, a plunge pool, and a small wash station to rinse off after coming out of the ocean. The raised walls on each side of our villa ensured intimate privacy.
We absolutely loved keeping the doors cracked open so we could listen to the waves day and night.
Dining and Drinking
If you choose to visit Lily Beach Resort, the only meal plan they offer is the all-inclusive Platinum Plan. It lives up to its name with a robust list of offerings that extends beyond food, which I'll delve more into later.
There are four restaurants and two stand-alone bars. I'm not joking when I say everywhere and everything we ate was divine.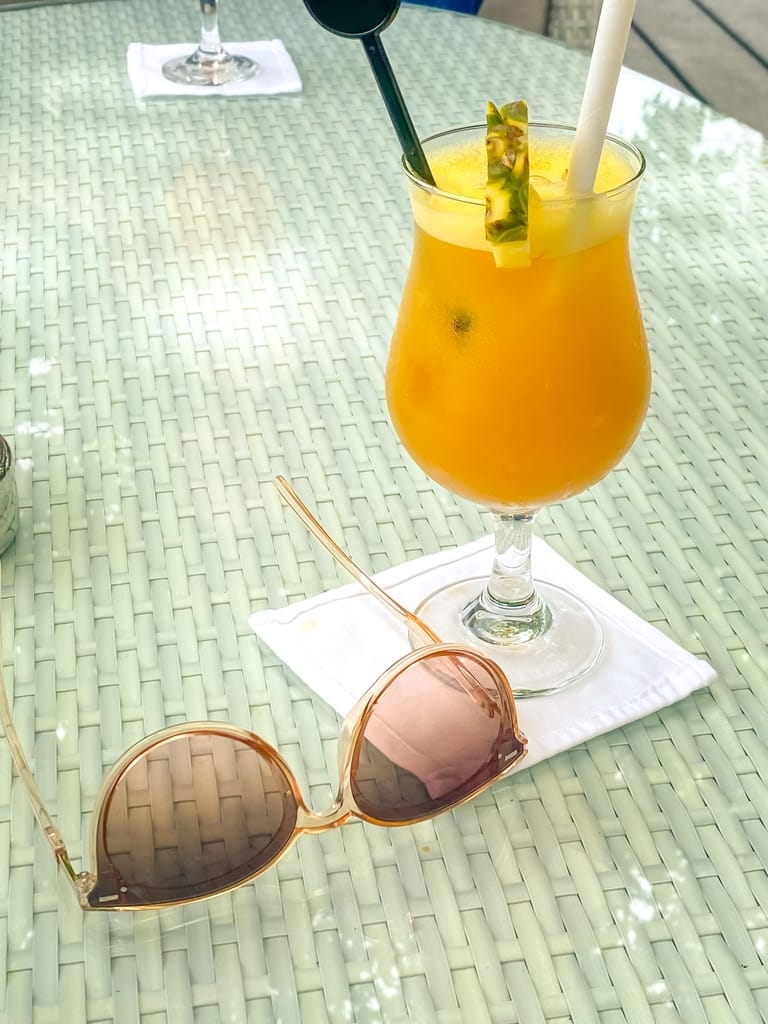 Lily Ma
The main restaurant is Lily Ma which is an international buffet-style dining with breakfast, lunch, and dinner included. Every night, there's a themed buffet dinner with a large variety of options for that theme. My favorite theme was seafood night when they had a boat filled will crab, clam, and mussels.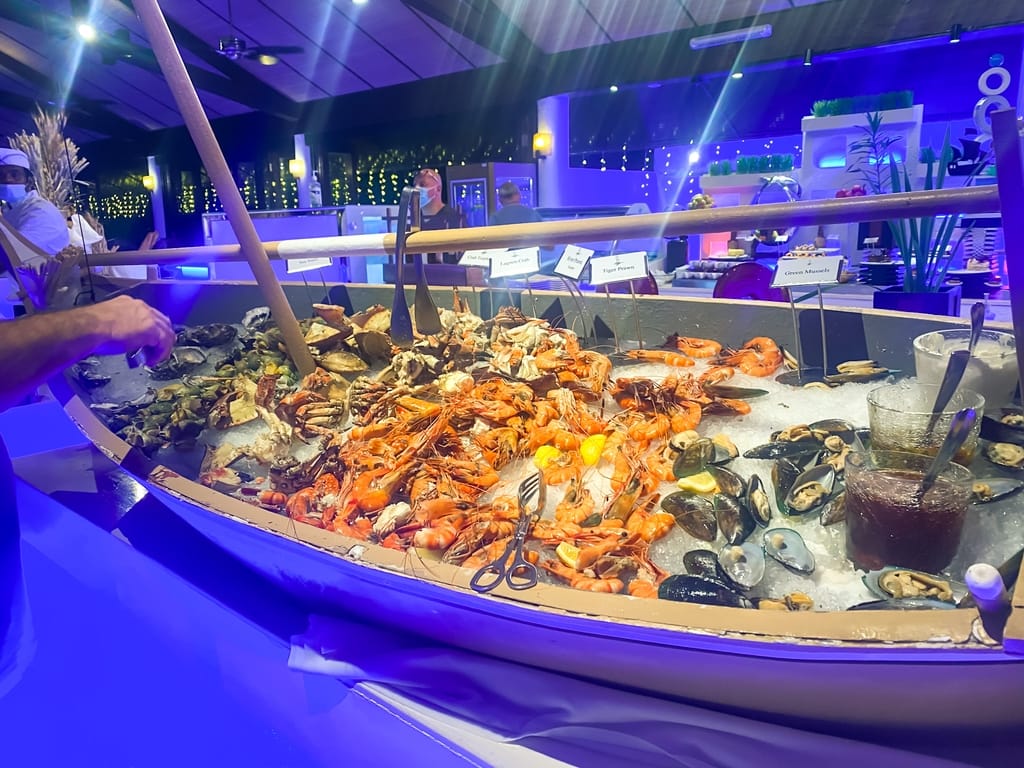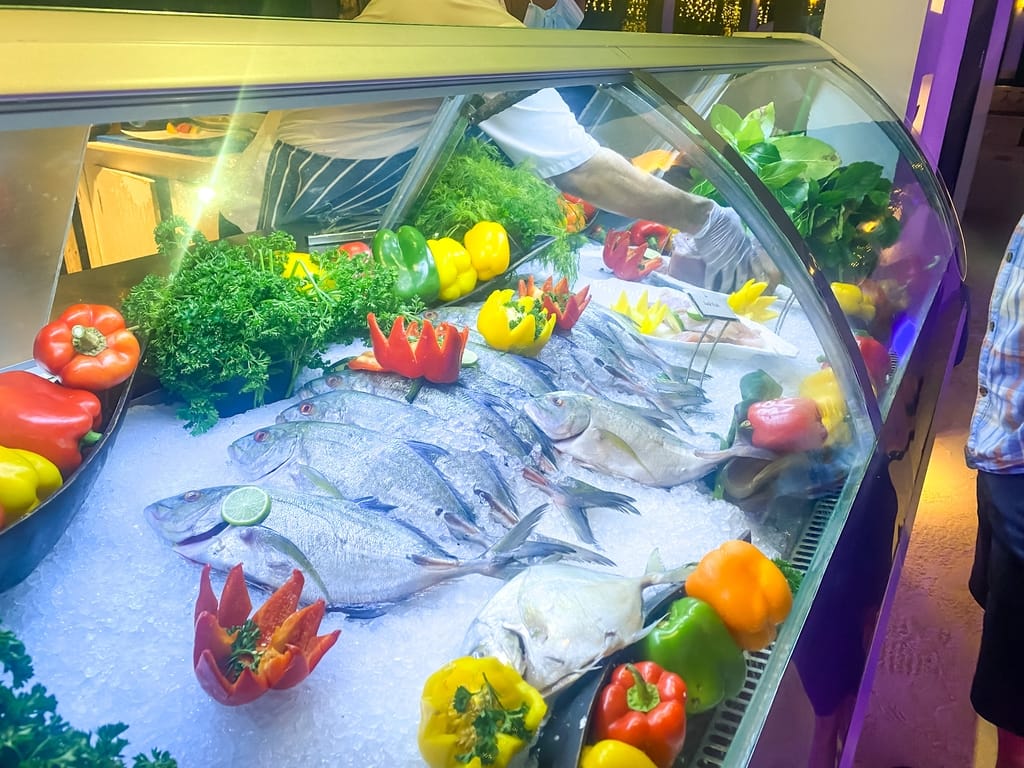 There are also live cooking stations such as a sushi station, pasta station, and more. My fiance loved the grill and BBQ station where we got emperor fish and cuddle fish grilled and fried nearly every day!
Besides the food, what we loved about this restaurant was being able to eat directly on the beach every morning and evening.
Fun fact: Every night, the resort dumps leftover fish remains over the main dock where could watch sharks and stingrays feed.
AQVA
We also had the option to eat at AQVA restaurant and bar for lunch which has an À la carte menu. With the plan, we could have an appetizer, main, and dessert of the day. AQVA is adjacent to Lily Mas and also houses the adult pool and lounge where we spent a lot of time unwinding during daily housekeeping.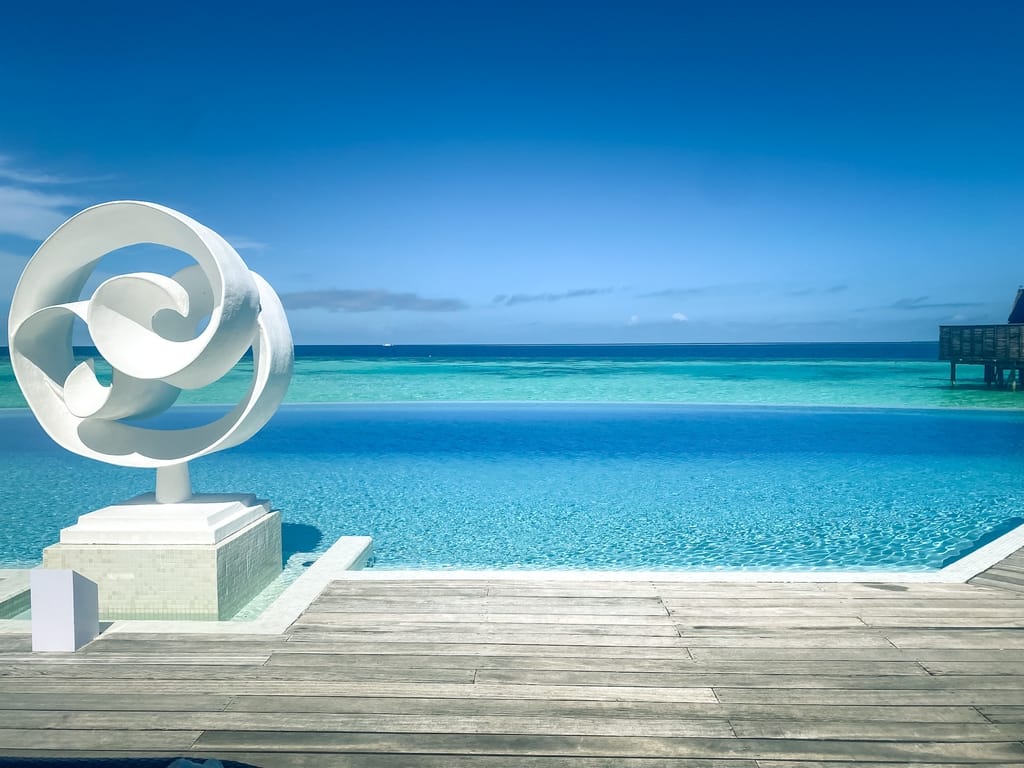 Vibes
The Vibes restaurant and bar is on the opposite end of the island that also has an À la carte lunch menu. This is one of the locations for weekly entertainment and houses the family pool. There are also hammocks in the trees and large poolside cabanas to lounge around in.
Here's a quick video of the area:
Tamarind
If you are staying more than 4 nights, the plan grants you one à la carte dinner per person per week. Here we ate the most delicious fusion of Thai and Indian dishes in a booth set over the ocean. We even saw small sharks swim by as we ate!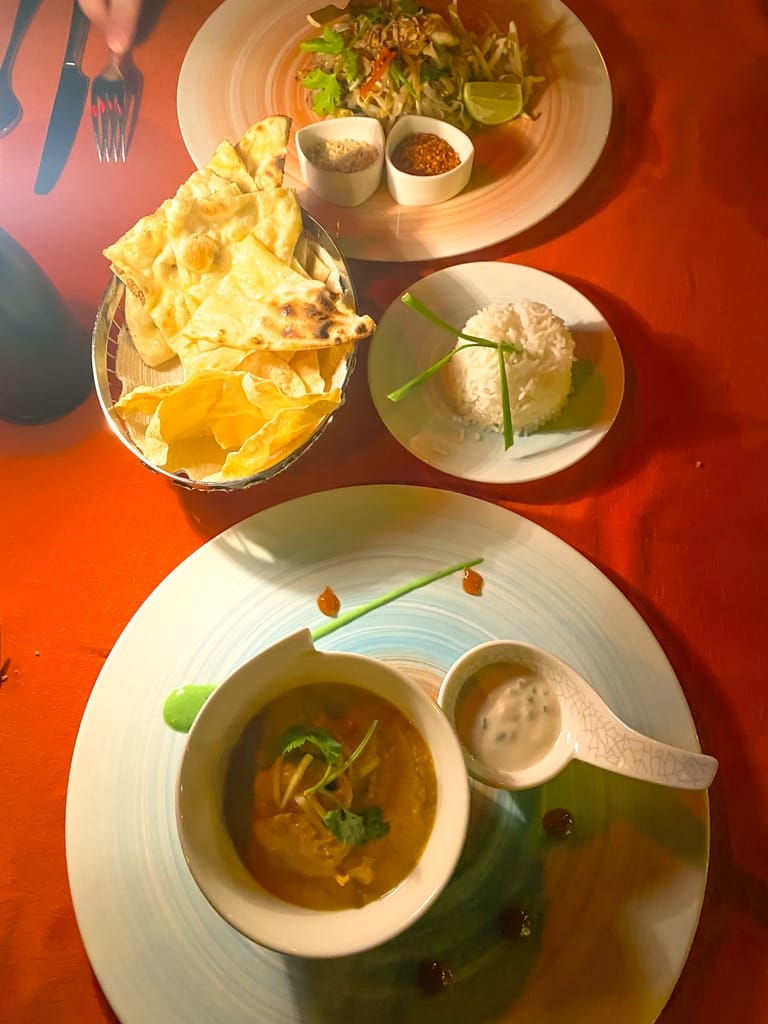 Spirit Bar
Our favorite bar was Spirit Bar because its indoor/outdoor concept, sand floors, and central location on the resort. It's a great place to people-watch or grab a drink any time of day. In addition to unlimited alcoholic and non-alcoholic drinks, you can choose from 80 different global wines and French champagne by the glass.
BeachBar
A bar right on the main community beach so we never had to walk too far to indulge in a good drink!
Private Dining & Other Experiences
We decided to splurge on a private, romantic, lobster dinner in a secluded area of the beach where lobster was infused into every course. There was also a Teppanyaki experience weeknights at AQVA that we passed up as we wanted to try more local dishes.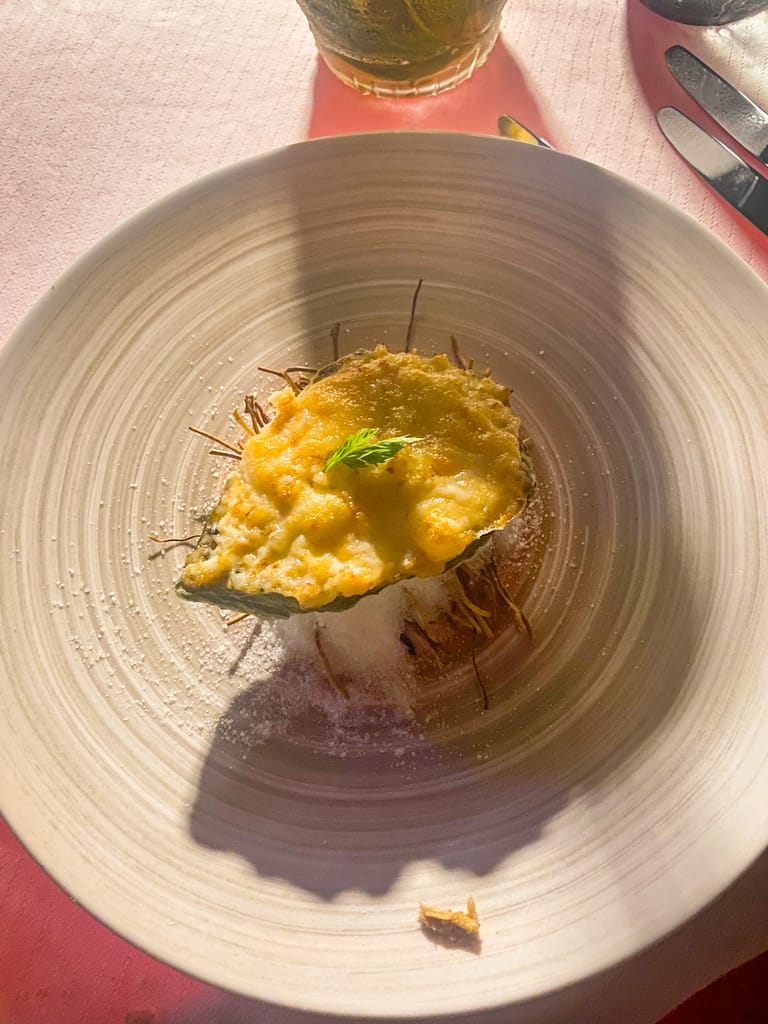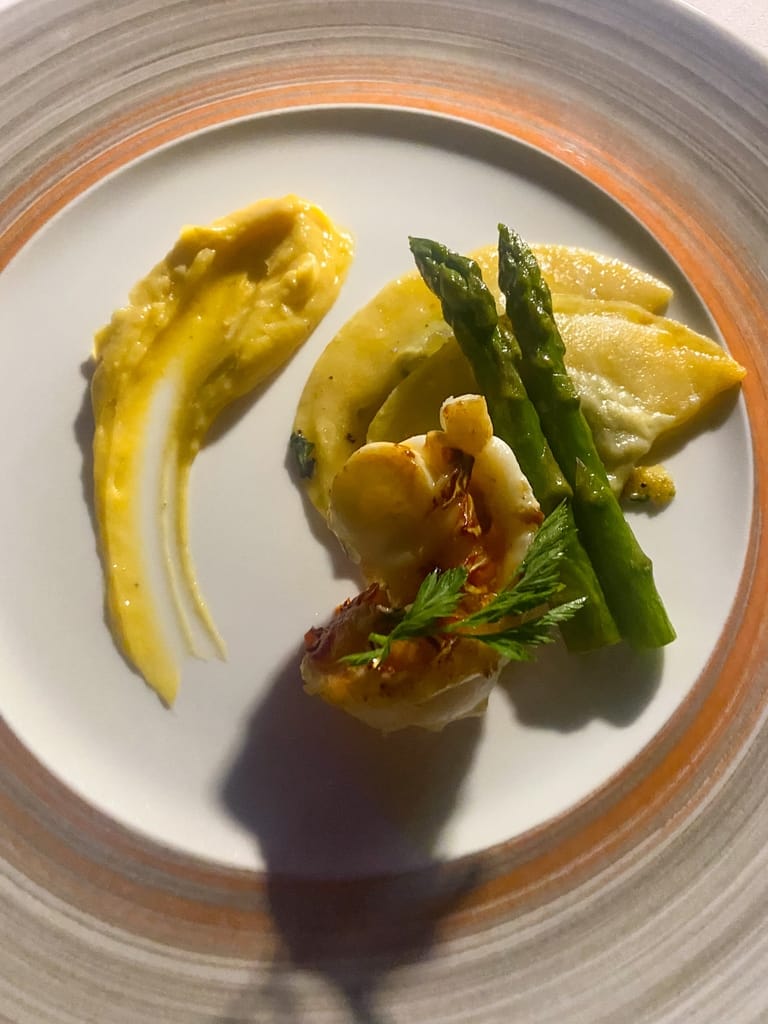 Excursions
While we were free to snorkel to our heart's content all around the resort, the Platinum Plan also included three excursions per person per stay. The inclusive options are coral garden snorkeling, a fishing trip, a sunset cruise, and a trip to a local island. Excursions for an extra cost include a "deep sea adventure" to swim with whale sharks and mantas, snorkeling with sea turtles, deep sea fishing, diving, and more.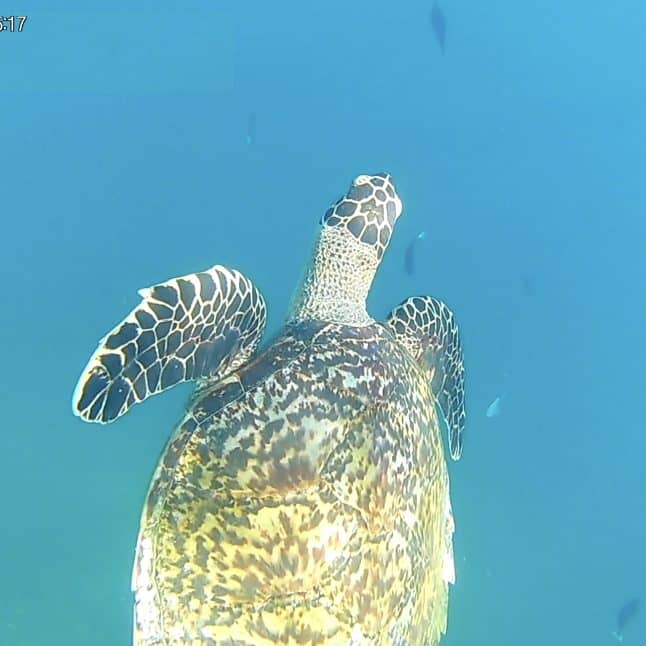 We chose to pay extra to snorkel with sea turtles and to do the deep sea adventure. The day we were booked to snorkel, my fiance actually hurt his ankle and couldn't swim so he waited on the speed boat for me. Apparently, when I was facing another direction in the water, he saw a pod of dolphins swim right behind me and I didn't see them. My fiance never lets me live it down!
I ended up going on the "deep sea excursion" without him and instead with other resort guests and I will never do something like that again. It was too much adventure for me to handle. I felt queasy for being on a speedboat that was rocking so hard in deep open water. It was also scary the way we had to quickly jump in and out of the small boat to catch and chase after the whale sharks and mantas.
Facilities
Every Maldives resort is its own island and a "mini world" where all activities for your stay will take place. It's important to choose your resort carefully so you don't get bored when you're "stuck" in paradise.
Lily Beach Resort offers so many adventurous and relaxing activities for couples and families to enjoy.
Watersports & Water Activities
All non-motorized watersports are also included in the Platinum plan. At Lily Beach, that means free usage of paddle boards, clear bottom canoes, pedal boats, catamaran sailing, windsurfing, and snorkeling equipment. Paid activities include jet skis, jet blades, diving, and diving certification.
On the main beach, there's a fun photo opportunity where you can enjoy a swing directly in the water.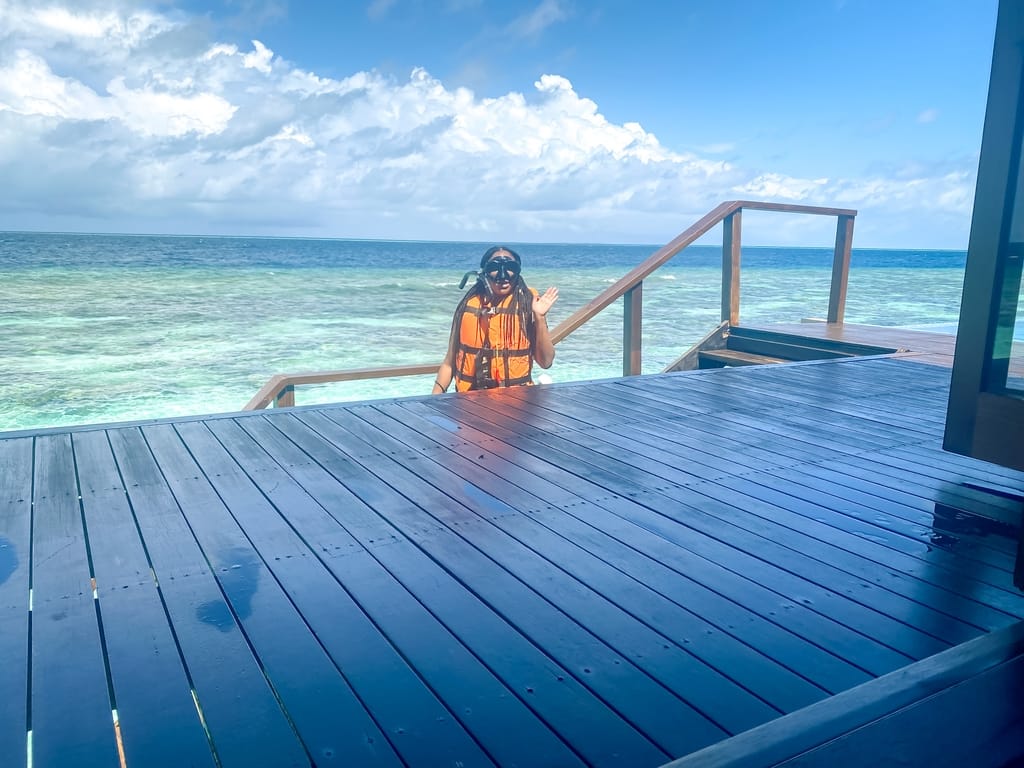 Sports & Recreation
Their Sports Complex at the Vibes Restaurant includes bar activities such as ping pong, foosball, volleyball, and billiards. Nearby, you'll also find tennis courts, a gym, and a kid center. Guided yoga sessions are also offered.
Spa
I am not a fan of spas because I'm very ticklish. But I figured, why not have my first official professional in paradise? I signed up for a hot stone massage and now, I'm hooked. Upon entering the spa, I was offered tea and snacks then led to a private spa villa for my session. The villas also have glass bottom floors so visitors can enjoy watching fish swim by while face down on the bed.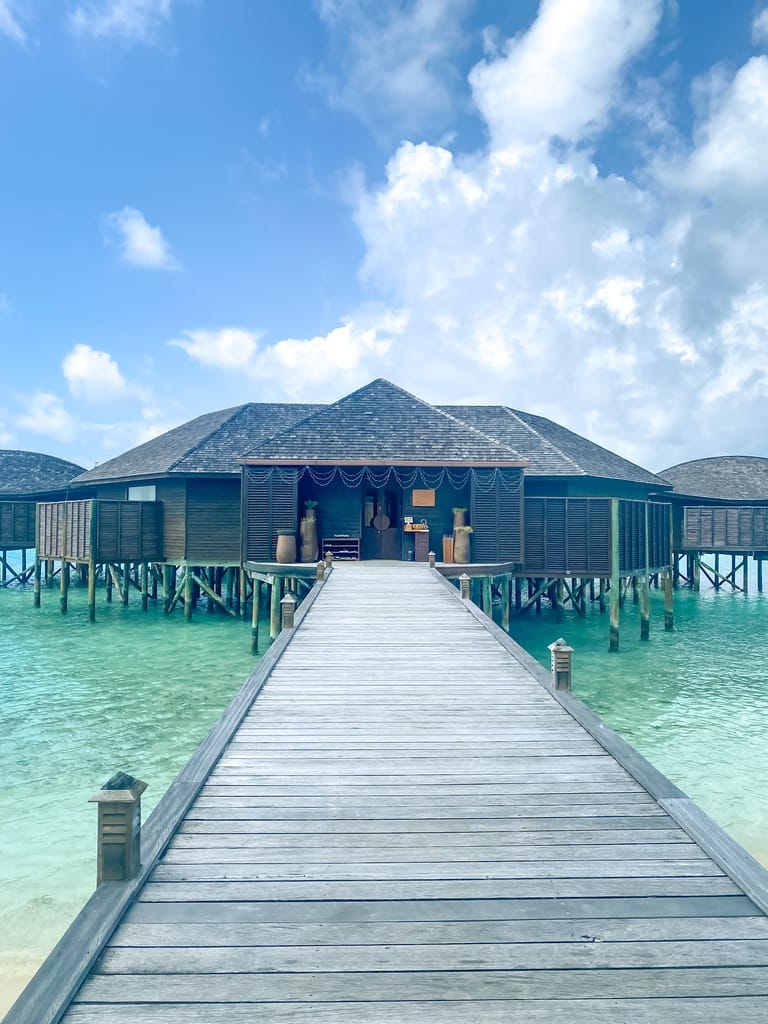 Final Thoughts
Traveling to the Maldives and staying at Lily Beach was a 10 out of 10 experience. The gorgeous property, the warm hospitality, the luxurious accommodations, and a spur-of-the-moment vacation turned engagement celebration, made this trip earn its own scrapbook.
The Lily Beach Resort and Spa offers a unique and unforgettable experience for families, couples, and anyone looking to celebrate a special occasion.
Have you found magic in the Maldives? I'd love to hear your story!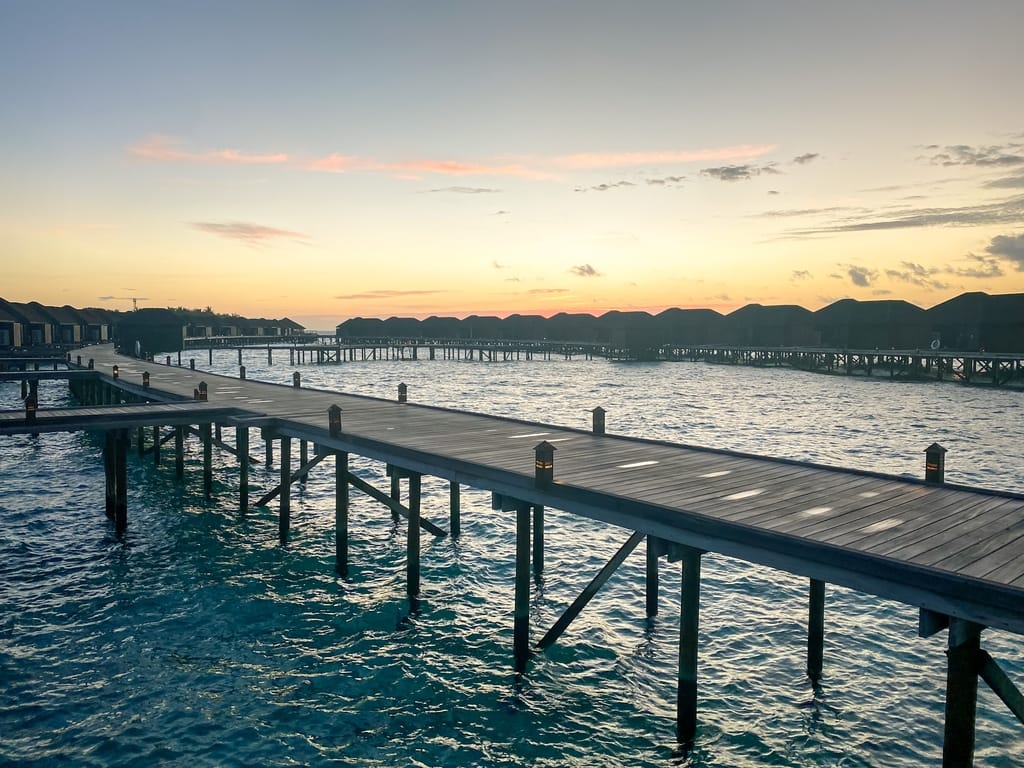 Is the Maldives on your bucket list?
Check out Lily Beach for yourself!